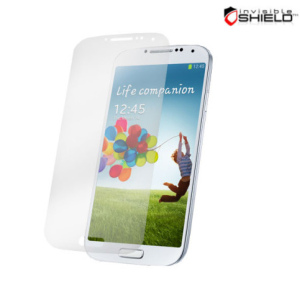 InvisibleSHIELD Full Body Protector for Samsung Galaxy S4
Product Reference: 38641
"Crystal Clear"
"Best Screen protector"
This item is covered by our
Christmas Extended Returns Policy
Write a review
Anonymous
Unknown
25th March 2014

galaxy S4
Bien
1ère fois que j'utilise cette protection et pour le moment je ne suis pas déçu. j'ai eu peur de mettre beaucoup de produit pour appliquer le film arrière et du coup ça à été un peu difficile à mettre en place et il reste quelques bulles... Je le saurais pour la prochaine fois ! Néanmoins, ça permet de bien protéger l'arrière du S4 sans grossir le téléphone et il glisse moins entre les mains. le film est parfaitement ajusté pour le S4 et pour le moment il tient très bien ! Pas encore utilisé le film pour l'écran car déjà un en place !
Did you find this helpful?
---
lemo
yvre l évêque
13th November 2013

galaxy s4
Bonne protection
Bonne protection, il faut un peu de dextérité pour mettre en place le film mais les bulles d'air restantes partent d'elles-même ! Attention ne protège pas contre les chutes.
Did you find this helpful?
---
AUBERT
paris
21st June 2013

samsung galaxyS4
Pas top
je pense que le produit est très bon, mais très dur à installer voir limite impossible.
Did you find this helpful?
---
Jérémy
Bordeaux
9th June 2013

Samsung Galaxy S4
Bonne protection, mais...
Il s'agit d'une protection de qualité qui a le gros avantage de s'appliquer beaucoup plus facilement que les autres protections en raison de sa souplesse. Il est possible de le repositionner à souhait et les bulles partent très facilement. Si les traces de doigts sont complètement invisibles avec cette protection, les reflets sont eux bien présents et peuvent gêner en plein soleil. De plus, cette protection ne peut pas être rayée mais elle peut en revanche être "marquée" par l'appui prolongé d'un corps sur elle et ce parfois définitivement. Il s'agit donc là d'une protection qui se démarque des autres avec des avantages et des inconvénients.
0 of 1 found this helpful.
Did you find this helpful?
---
nico
hyeres
22nd May 2013

galaxy s4
Protection parfaite
Génial, parfaite et simple à installer, à recommander car la qualité est conforme par rapport au prix.
0 of 1 found this helpful.
Did you find this helpful?
---
Anonymous
graulhet
5th May 2013

galaxy 4s
Parfait
Très bonne protection. Déjà achetée pour d'autres téléphones qui a en plus la particularité de garder son téléphone tel quel.
1 of 2 found this helpful.
Did you find this helpful?