Sorry, but Melkco Premium Leather Flip Case for HTC One 2013 - Black has been discontinued and is no longer available to order. For your convenience we've selected some alternative items that we think you may be interested in.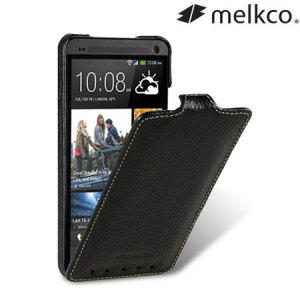 Melkco Premium Leather Flip Case for HTC One 2013 - Black

Product Reference: 38461
"Elegant and practical"
"HTC One leather case"
Write a review
Martin
Prague, Czech Republic
9th March 2014

HTC One
Elegant and practical
Melkco Flip Case seems to be the right choice for my mobile. It perfectly fits in my hand, it is both comfortable and elegant, I am truly enjoying the great feeling when holding it. It perfectly fits to the device and provides great protection to it.
Did you find this helpful?
---
Christopher Whittle
Kangaroo Island, Australia
24th January 2014

HTC1 cover
The cover is really in good fit of all the necessary attachments without pulling out the phone from its cover. It is in good quality. Value for money.
Did you find this helpful?
---
Martin
Prague
15th December 2013

HTC One
Sturdy and elegant
I weas looking for something truly sturdy to protect my mobile and at the same time something which shoulb be pleasant to hold in a palm. This case from Melkco is meeting both criteria, it is simply to use, it looks great and the feelings are .... just great!
Did you find this helpful?
---
Peter
Melbourne
27th October 2013

Excellent Leather case
The Melkco premium leather flip case for HTC one is an excellent case. It fits the phone perfectly and is nice and slim; so putting it in and taking it out of your pocket is easy. The premium look and feel of the leather which covers front, back and sides of the phone with distinctive stitching is what puts this case above others. Your phone is given good all round protection with a leather covered hard back shell and a leather flip front including a soft felt lining for the screen when closed. All ports, camera and microphone are accessible when the phone is in the case. I would certainly recommend this case to friends.
4 of 5 found this helpful.
Did you find this helpful?
---
Sumit
India
20th October 2013

Awesome...:-)
I received my melkco cover within a week (thanks mobile fun), and I must say that my decision not to go with the HTC official cover paid of. The melkco cover fits perfectly and looks classy.
1 of 1 found this helpful.
Did you find this helpful?
---
Hop
London
11th September 2013

HTC one
Quality
It a craftsman ship with this case. It fits the phone perfectly, it also protect the whole phone as well. You feel quality in your hand. You do get what you pay for, plenty other cheap cases around, but if you want quality, get this one.
1 of 1 found this helpful.
Did you find this helpful?
---
Anonymous
Unknown
7th September 2013

HTC One
Quality
Had a Melco case for my iPhone which was a quality case not like some on the Market so when I switched to the HTC had no doubt what case to buy and I'm not disappointed
Did you find this helpful?
---
Paul Yates
Gwent
20th August 2013

HTC One
Quality case for a quality phone
When upgrade my phone to the HTC One I wanted a good cover to protect my new phone and so I knew MobileFun would be the place to get my new cover. The Melkco Premium Leather straight away shone above all others once it arrived it stood out with quality soft leather with white stitching to the front. The phone fits perfectly snug with access to all buttons and plugins the inner has a soft leather padded face which will protect your screen effortlessly the clip holds firmly without marking the phone. I can highly recommend this case for all owners of the HTC One.
3 of 3 found this helpful.
Did you find this helpful?
---
Mark Hughes
Lllangollen
15th August 2013

HTC ONE
Spectacularly well made
Wow where do i start, over the last couple of years I've had many phone cases but none of them had felt and looked as well as the Melkco flip cases for the HTC One. Yes there are cheaper mobile phone cases out there but you get what you pay for. Build quality is fantastic, fit's around the phone nicely and you still have access to all of the ports and buttons. One very happy customer.
2 of 2 found this helpful.
Did you find this helpful?
---
Terry Bunn
Reading
3rd August 2013

HTC One
HTC One leather case
Thanks for the Melkco leather case. It did take a few days to come but it was out of stock when I purchased it so cannot complain there. I like a flip case so that the back and screen are protected. The problem I find with most of these is that they add to much bulk to the phone. This case is very nice and once installed hardly adds any bulk at all as its molded leather instead of a plastic frame with leather fixed to the outside. I am also happy with the protection, it grips the phone very well and covers all the corners giving a secure feel. I would say if I dropped the phone from to high on to the pavement it would possibly get damaged but I think this can happen with most cases. I had a Casemate before which was very protective but made my previous phone feel much to cumbersome in my pocket so this Melkco is a perfect compromise. The leather is a very nice genuine quality with a padded and white baseball stitched front. The top front clasp is a press fit which works very well. I have had magnet clasps before which also work well but I am not sure how they affect the signal. I do sometimes worry that this top clasp will damage the finish of the phone but I am happy that this one will not. All the buttons are accessible but I will say that the on off top button is slightly obstructed by the corner protection but I would rather it this way. Also the charging power socket is accessible with the front cover in the closed position which is handy as I have had covers where you have to open to charge which is pointless. All in all I am very pleased with this case which suits me perfectly.
4 of 4 found this helpful.
Did you find this helpful?