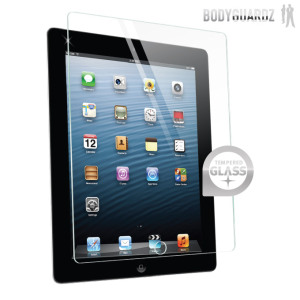 BodyGuardz Premium Apple iPad 4 / 3 / 2 Pure Glass Screen Protector

Product Reference: 38393
"Perfect product"
"Very good protektor for screen"
This item is covered by our
Christmas Extended Returns Policy
Write a review
Andrew
York
11th September 2014

IPad 3
Perfect product
I've tried loads of different screen savers for iPad and iPhone, and the thin glass ones like this are the best. This is very easy to fit with no air bubbles - fairly idiot proof which is what I need - and any dust specks can be removed simply with the supplied kit. Excellent video instructions available too. It does make the iPad slightly fatter but otherwise you can't tell the difference between this and the real screens use. Pricey but well worth it for me as my iPad travels everywhere with me and needs some robust protection.
Did you find this helpful?
---
Petra
Aberdeenshire
4th May 2014

iPad2
Very good protektor for screen
I bought It for my son who got autism , Very Happy with purchase . Functions are not affected at all and realy well work, protect screen.
Did you find this helpful?
---
Anonymous
North Yorkshire
11th March 2014

iPad 4
Security
I was desperate to protect my child's iPad as it has to go to school with her. I'd done a lot of research & found Body Guardz, a screen protector made of toughened glass. If you buy one watch the installation video as you fix it and take your time doing it! If the ad is right it should now be impervious to all knocks!
Did you find this helpful?
---
Dudley
Portsmouth
18th November 2013

iPad 4th generation
This is the real deal!
Yes this is expensive but is very easy to apply and gives excellent protection.There is a link to a video which gives clear instructions. When you open the package you can see and feel the quality of the item. When I applied it to the iPad screen there were very few bubbles ( unlike cheaper products) and these were easily removed with the supplied squeegee card. Having used it now for a couple of weeks I am extremely pleased with the screen and feel it is well worth the expense. As is usual with Mobile Fun delivery was on time and the item was packaged well to prevent damage in transit
Did you find this helpful?