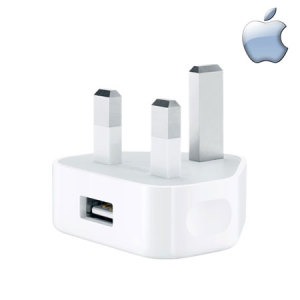 Apple 5W USB Power Adapter
Product Reference: 38084
"Brilliant"
"Genuine article "
This item is covered by our
Christmas Extended Returns Policy
Write a review
Mark
Kent
23rd November 2014

Apple
Brilliant
I was using a generic one which didn't work well at all. The price for this genuine Apple charger was very good,delivery was swift and my Ipod now charges properly. Extremely happy customer.
Did you find this helpful?
---
Sarah
Nottingham
29th October 2014

Iphone 5
Better than ordering from elsewhere
My phone stopped charging whilst in France took it to a phone shop they said it was the phone on my return to England found out it was only the plug not the cables or even worst the phone! Checked the price elsewhere then found it cheaper on mobile fun, fast delivery so I'm very happy would recommend mobile fun any day
Did you find this helpful?
---
Anonymous
Unknown
8th July 2013

Genuine article
This is a genuine Apple accessory. Why spend hundreds of pounds on an Apple device then use a cheap generic USB charger plug, which may or may not be OK, to recharge it.
3 of 3 found this helpful.
Did you find this helpful?