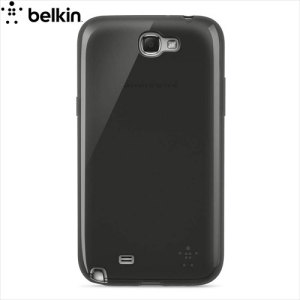 Belkin Grip Sheer Case for Galaxy Note 2 - Translucent Black

Product Reference: 37937
"amazing"
"Great Item Fast Delivery"
This item is covered by our
Christmas Extended Returns Policy
Write a review
Tony
NSW
24th October 2013

Good product but came with a mark in it!
Received the case in a reasonable time frame. However, upon opening the cover, I found the case had a big smudge mark on the back of the case. Initially it was disappointing to have this mark but luckily I was able to clean it off (had to scrub pretty hard) and it looks like new again. Mobile Zap was kind enough to exchange or refund so no problems with the service at all...in fact the level of service is above par. The product itself is very good. Doesn't too much to the bulk of the phone and the buttons work really well with a nice click response to them. All the cut-out ports are precise and the tacky feel of the case is perfect as it doesn't feel like you're going to drop it all the time. Great item.
1 of 1 found this helpful.
Did you find this helpful?
---
Mark Henderson
United Kingdom
29th September 2013

Galaxy Note 2
Great Item Fast Delivery
This is a very simple but good quality case and at this price is an absolute bargain :-) The Galaxy Note 2 is already a very large device so the last thing I wanted was a case that added a great amount of bulk. It has good enough protection against scratches and minor bumps and I can highly recommend it.
1 of 1 found this helpful.
Did you find this helpful?
---
Jamie
Unknown
17th February 2013

g note 2
amazing
Thin yet snug comfortable fitting case
8 of 8 found this helpful.
Did you find this helpful?