Sorry, but Capdase Ultra Imag ScreenGuard for Google Nexus 4 has been discontinued and is no longer available to order. For your convenience we've selected some alternative items that we think you may be interested in.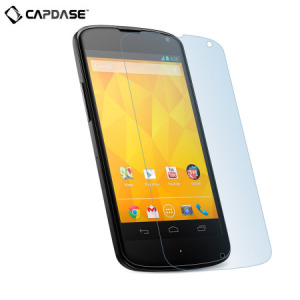 Capdase Ultra Imag ScreenGuard for Google Nexus 4

Product Reference: 37903
Write a review
JvR
Adelaide
15th November 2013

Great product but hard to fit
It was very difficult to fit this, but that may just be me. It took a few attempts to fit it correctly but when I tried to pull the top protection layer off using the tab, the whole protector came off again! It was very hard to keep it down while pulling on the tab. Some dust inevitably got caught underneath so now there are 2 tiny bubbles left which won't come out. I expected the screen to have a slightly "frosted" look due to its anti-glare property, which according to my research, is inherent of any anti-glare technology. This one does a great job of both reducing the glare and staying grease-free without sacrificing too much of the image quality. Yes, this one is not cheap, but you get what you pay for. If you want a crystal clear screen, then do not buy ANY anti-glare product as they all WILL reduce the image quality to some extent. If you're tired of constantly having to wipe off fingerprints and seeing your own reflection on the screen, then you'll appreciate this screen protector. 5-Stars for quality and function, 1-star off for fitting difficulty.
1 of 1 found this helpful.
Did you find this helpful?
---
JvR
Adelaide
11th November 2013

No more grease!
Like: No more greasy screen! I've had this on my Nexus 4 for several days now with heavy usage and no sign of any grease or fingerprints! Dislike: It claims to be "anti-glare". It definitely reduces some glare but is by no means "anti.....". Glare is still noticeable enough to be distracting. Fitting was a nightmare! After several attempts I finally got it on correctly aligned but when I removed the top protective sheet using the special tab, it removed the whole protector! The final result is 2 small air bubbles that despite all my efforts I could not remove. Summary: If all you want is a clean screen and you have patience fitting it then this is for you. However if you want something that really is"anti-glare" and easy to fit then find something else.
Did you find this helpful?
---
Vish
Unknown
16th March 2013

Nexus 4
Pretty good
I wasn't entirely sure when I bought this screen protector, but its actually pretty decent. It has all the cut outs needed, and feels good when using it as well. It was rather simple to apply it to the phone. However, it is not totally fingerprint proof. It reduces fingerprints by a lot, but it is still there. It is easy to wipe them off tho
0 of 1 found this helpful.
Did you find this helpful?
---
Kane
Launceston
29th January 2013

nexus 4
Nowhere near worth the money
Extremely thick with a strange feel to it. Looks as if you have frosted glass. Removed straight away.
5 of 7 found this helpful.
Did you find this helpful?