Sorry, but Capdase KLIA ScreenGuard for Google Nexus 4 has been discontinued and is no longer available to order. For your convenience we've selected some alternative items that we think you may be interested in.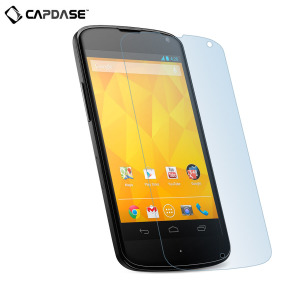 Capdase KLIA ScreenGuard for Google Nexus 4

Product Reference: 37846
"This must be the best one ever!"
"Great screen guard"
Write a review
Lorenzo
Prato
19th September 2013

Capdase KLIA ottima pellicola
Penso che questa è la prima pellicola che provo che si installa senza difficoltà e senza creare quelle fastidiose bolle. Ottimo anche l'assistenza clienti post vendita. Tornerò sicuramente a comprare qui. Consigliatissimo
Did you find this helpful?
---
Anonymous
Unknown
29th July 2013

Nexus 4
Rubbish!
Put the screen guard on two days ago. It went on very well without any bubbles. Had the phone in my pocket today and when I took it out in the evening the screen guard was half off. Have now put it back on (but there are a few bubbles) while I wait for cheaper protectors to arrive. NOT IMPRESSED!
Did you find this helpful?
---
fantastica pellicola
Facile da installare,zero bolle e rispetto alle altre pellicole non si graffia ed è anti impronta,veramente un ottimo prodotto.spedizione velocissima.
Did you find this helpful?
---
Julian
Bulgaria
7th June 2013

Nexus 4
Too little too expensive
I am not handy to begin with so I bought this protector based on the previous reviews of how easy is to apply it. It wasn't. After 2 very bad attempts I had to wash it. It's ok now after the second wet attempt, although not crystal clear. On the good side it's resistant and it did very good with the washing and reapplying several times but I expected more.
Did you find this helpful?
---
yiannisf
Athens
17th May 2013

Google Nexus 4
Fitting instructions invalid!
At first I was really frustrated with it and almost threw it in the bin. No way you will fit this without using soap and water! They should put that on the box! Also It should be a bit bigger though, so as to cover a larger area of the screen. Other than that the screen guard is exactly as described. PS: You can find instructions and videos on how to go about the water and soap technique really easily by doing a search online.
3 of 3 found this helpful.
Did you find this helpful?
---
Lorenzo
Piacenza
26th April 2013

Buona pellicola
Il prodotto mi sembra piuttosto valido. Purtroppo nella confezione che ho preso io è presente una sola pellicola. E questo svaluta un po' l'acquisto.
0 of 2 found this helpful.
Did you find this helpful?
---
Gary
Belfast
17th April 2013

Nexus 4
Disappointed
Purchased this on the strength of previous excellent review. Despite taking time and care fitting this screen guard I just could not get several bubbles out and in the end I have binned it.
Did you find this helpful?
---
Max
Glasgow
12th April 2013

Nexus 4
This must be the best one ever!
Over the years, I have bought many of these screen guards and most of them have been rubbish. You know the type, bubbles you can't get rid of, they keep peeling off or just won't stay on. This was the simplest one I have ever fitted. Went on perfectly with no bubbles and has a good tactile surface. Can't recommend it too highly even if it is a bit more expensive. Proves you get what you pay for these days!
1 of 1 found this helpful.
Did you find this helpful?
---
KJ
Chelmsford
4th March 2013

Google Nexus 4
Update
A quick update to my earlier review. Still working perfectly and virtually invisible. My daughter says my screen is a bit less responsive than hers (with no protection) but I don't know if the protector that's causing it. I went geocaching with the Nexus for the first time yesterday and managed to get a one inch scratch across the screen from a hawthorn bush (what is it with cache owners and hawthorn?)that I could 'catch' with my fingernail. This morning - it's gone! Completely! Not a sign of a scratch. Capdase don't seem to make a big deal about the film's self healing properties but on this evidence, they should. Highly recommended.
2 of 3 found this helpful.
Did you find this helpful?
---
KJ
Chelmsford
1st February 2013

Google Nexus 4
Great screen guard
I was a tad perturbed on receiving this to find only one sheet in the packet - I normally trash at least one trying to get the thing square / bubble free / dust free. I needn't have worried - this was SO easy to fit. After removing the first protective sheet the film can be positioned and repositioned seemingly a countless number of times to negate those problems until it is finally fully fixed down and the second protective skin is removed. This comes away with no problem at all and doesn't lift the guard. In use the screen guard is virtually invisible and does a superb job - greasy fingerprints are a thing of the past. I haven't had occasion to test its anti-scratch properties yet, but it feels tough enough. It does, perhaps, attract a little more dust that the unadorned glass, but nothing to detract from its performance. Cleaning it is simple - I use the cloth supplied in the pack for initial display cleaning. If you're wondering about the proximity sensor: it is cut away to leave it clear. It also leaves the front camera clear and although it took me a few attempts to get it close enough to the lens (it lines up very tightly) as I've written above, multiple attempts are no problem. It may be a bit pricey for a single protector but in my opinion it's quite the best I've ever used (albeit for a relatively short time so far), feels and looks as though it will last forever and thus, for me, is money well spent. Highly recommended!
5 of 6 found this helpful.
Did you find this helpful?