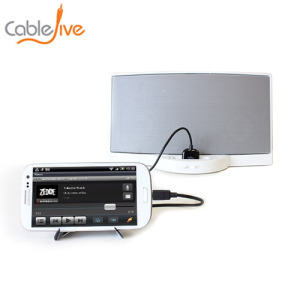 CableJive SamDock Apple Dock to Samsung Adapter

Product Reference: 37744
This item is covered by our
Christmas Extended Returns Policy
Write a review
Naveen
New Delhi
9th September 2013

Not lives up to expectations
i have a Dr Dre + Beats docking system, this cable only provided charging + music out, however i cannot use the play, pause , forward, rewind and volume control on the dock anymore, Also there is some lot of static noise in the background. So negative there 2nd i wanted to use the my Galaxy S4 with the Car stereo with inbuilt ipod support, this cable does not help in that, the car system cannot detect the device. And second negative here So the cable is just another redundant investment for me. Most docks also support Audio in thru a 3.5 mm headphone jack, use that instead. No use investing in this Cable if the Samsung galaxy S4 can be read as an ipod in the dock.
5 of 9 found this helpful.
Did you find this helpful?
---
Danielle Towner
Canberra
24th June 2013

samDock wasn't compatible for what I needed to use it with.
I recently purchased the samDock and was so excited to be able to play my samsung galaxy note 2 through the ipod dock in my panasonic SH-HC27 stereo system. Unfortunately for me, I can't get the music on my phone to play through my speakers I read your troubleshooting tips and checked that my audio settings were set as directed, but when I connect my samDock to my phone and stereo it just says 'not supported' or 'checking connectivity'. I contacted cable jive support who advised it's not compatible and to contact mobile zap for a refund. Could you please advise how best I can go about doing this? Really disappointed this product didn't work for me :( the product reviews and you tube videos never mentioned anything about limited compatibility with docking stations and devices. Many thanks !
14 of 21 found this helpful.
Did you find this helpful?