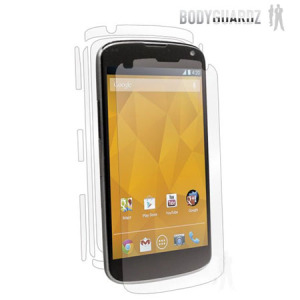 BodyGuardz LG Nexus 4 Full Body Protector - Twin Pack

Product Reference: 37738
"Buy a cover"
"User experience - Pros and Cons"
This item is covered by our
Christmas Extended Returns Policy
Write a review
Tony L
Unknown
15th September 2013

Nexus 4
Buy a cover
The edge protectors are basically transparent, rubbery stickers. They will offer some protection (from scuffs, not so much impact) but aren't a great fit and detract from the phone's looks. The screen and rear covers, however, are a perfect fit (best I've had on any phone) and the applicator kit makes fitting them simple and perfect with ZERO bubbling or particles. Worth buying for them alone, bin the edge stickers and buy a rigid cover to go with it.
1 of 1 found this helpful.
Did you find this helpful?
---
xav
Unknown
27th May 2013

Passable !
Si vous savez déjà mettre des films de protection, je vous déconseille ceux là, car vous payez cher le kit d'installation avec du gel (technique pour les débutants, qui vous permet de repositionner facilement le film avant qu'il ne sèche). Si vous avez gardé le film de protection d'origine à l'arrière du nexus, je vous déconseille également ces films qui ne sont pas donnés. Bref, bonne protection (toute la surface de l'écran), mais la protection de la partie latérale et +/- inutile et enlève du grip au téléphone, et la protection arrière est inutile si l'on a celle d'origine. Tout cela pour très cher. Recommandé à ceux qui n'ont plus de protection d'origine et ceux qui ne savent pas mettre de films (méthode au gel).
1 of 2 found this helpful.
Did you find this helpful?
---
Samuel
Liverpool
29th March 2013

LG NEXUS 4
User experience - Pros and Cons
Pros: 1. Came with twin package - Can have a 2nd try if 1st attempt failed. 2. Easy application - Can choose from Wet (gel) or dry application. With gel, you can easily adjust and re-position even after application. 3. Perfect fit with all sided protection - Don't feel the need of a case. Cons: 1. Doesn't fit with cases. 2. Can get slightly overheat when using wifi charging.
0 of 2 found this helpful.
Did you find this helpful?
---
Sameer Nagpal
Panchkula
18th March 2013

Happy with the product
Happy with the product. It offers both the methods of application, wet and dry. I had never applied a wet screen protector before, so I made the first attempt on the back of the phone. Initially, it showed a lot of haze on the back, so u decided to go with the dry application on the front. However, the haze clears after a few hours, however it's mission impossible to apply the protector through dry application. I will recommend this product to every one, add long as they user the wet application. One last point. The bottom protector can use more accurate dimensions for the cut outs. Although, even now they are sufficient.
3 of 5 found this helpful.
Did you find this helpful?
---
Jack
Unknown
17th March 2013

Nexus 4
Waste of money
Waste of time and money. They are impossible to put on and when you do they are so thick that you cant use the phones touch screen
2 of 7 found this helpful.
Did you find this helpful?