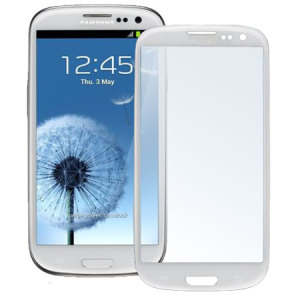 Samsung Galaxy S3 Glass Screen Protector - White

Product Reference: 37511
"superb"
"Absolutely amazing!"
This item is covered by our
Christmas Extended Returns Policy
Write a review
Tanya
Berks
22nd May 2014

Samsung Galaxy S3
Disappointing after being so impressed!
This screen protector was fantastic, went on well and looked great (you could hardly tell it was on there) and worked seamlessly but I found that it did tend to slide about a bit but assumed it might 'bed in' after a while. However on retrieving it from a pocket a week after purchase the screen slid off and promptly smashed on the ground, very disappointing.
Did you find this helpful?
---
Patrick Lacey
Mornington
30th April 2014

Samsung Galaxy S3 Glass Screen Protector - White
This is a great product easy application and it looks fantastic. Highly recommend it much better that normal screen protectors with bubbles when you apply it to screen.
Did you find this helpful?
---
Anonymous
Unknown
28th November 2013

samsung galaxy s3
superb
Wonderful so nice to not have annoying bubbles on the screen any more . Perfect protection.
Did you find this helpful?
---
Terry Coltman
Unanderra. NSW, AUSTRALIA.
22nd July 2013

Galaxy S3 Screen Protector.
A brilliant product. Great value for money. Very easy to fit. Extremely pleased with my purchase. A first class business to deal with..
1 of 2 found this helpful.
Did you find this helpful?
---
Steve Rose
Salisbury
2nd June 2013

Samsung Galaxy S3
Great Product - Great Service
This is a superb product that does not add any discernible thickness or weight to the phone (it still works fine in my car holder). The delivery from Mobile Fun was fast and efficient and I will definitely be ordering from them again in the future.
1 of 2 found this helpful.
Did you find this helpful?
---
ahmed Mukhtar
Ballinasloe
1st June 2013

Samsung galaxy s 3
broblem solved
The best....I work as a mechanic for cars and this glass protector is great...goy it cuz my friends had it and they've had it for over a year. ...no scratches or damage. ...
Did you find this helpful?
---
Dionisis
Athens Greece
23rd April 2013

Galaxy S3
Scratches gone!
I also want to say that i noticed another excellent thing about this product. Since the very first days that i bought my Galaxy S3, i created a long and deep scratch on my phone. After installation of this product it is impossible for me to see where this scratch was! Excellent. Couldn't be happier!
1 of 3 found this helpful.
Did you find this helpful?
---
Dionisis
Greece
23rd April 2013

Galaxy S3
Excellent!!
Despite the many excellent reviews, for this product I hesitated to go ahead with a purchase mainly because I dislike protective skins, for their feel of touch. I decided for this tempered glass, as a "necessary" protection for my extended samsung battery S3 that i also purchased. The original extended battery of 3000mAh renders the use of a protective case a no-no. Amazed! Extremely easy to install, bubbles do not exist because its glass, fits perfectly from side to side, i think the screen might be even better! I had to detach it first time after application, due to dust residues, and re-attachment was so EASY!!!! Silver button cover is a fancy addition! Love it! Trust me, if you thinking of buying it, go for it!For me the best purchase i have ever made along with the original extended battery that i purchased together. A very-very happy MobileFun Customer!
1 of 1 found this helpful.
Did you find this helpful?
---
Adam
United Kingdom
7th April 2013

Samsung Galaxy S3
Brilliant screen protector.
I bought this screen protector to replace my Spigen SGP GLAS screen protector because it was losing it's adhesive and was starting to come off at random times. I did not want another one and could not find any other glass screen protectors on Amazon. I found this website and was pleased to see such positive reviews. I thought I might as well give it a go and I'm glad I did because so far this screen protector is perfect. Unlike the Spigen one I do not HAVE to use a case because the screen protector has been designed very well. The application was a pain because I kept getting dust under it, but I finally have managed it! This screen protector does not interfere with the sensitivity at all, the Spigen one did a bit, especially on the capacitive buttons. I am a little disappointed that the "Samsung" writing is hidden, but not a deal breaker. The home button is SO much nicer than the Spigen ones you get. So far I am not sure if some of my cases press against the sides of the screen protector because it goes right to the edges. I could go on and on for hours, but in short this screen protector is perfect for the phone! If you're hesitating whether or no to get one, don't, just buy it because you won't regret it at all!
0 of 1 found this helpful.
Did you find this helpful?
---
Tony
Portsmouth
26th March 2013

Galaxy S3
Fits well and doesn't affect the look of the phone
The good thing about this is that, along with the added protection it gives, it doesn't affect the phone's fit into either of the cases I bought. Easy to apply, though it took a couple of attempts to fit it without a spec of dust underneath but it was easy to remove and fit again. No loss of sensitivity or screen quality with the cover fitted.
0 of 1 found this helpful.
Did you find this helpful?
---
Anonymous
United Kingdom
29th January 2013

Samsung Galaxy S3
Absolutely amazing!
I bought this item for my phone, applies very easily with no bubbles as it is one sheet of hardened tempered glass. I have dropped it a few times and the screen isn't bothered and have even accidentally scratched it and it showed no bad signs. I have also seen other reviews of the item and it is great, so hard you can't drill through it apparently (not that you'd want to). GREAT PRODUCT! GREAT PRICE! So worth it!
6 of 9 found this helpful.
Did you find this helpful?