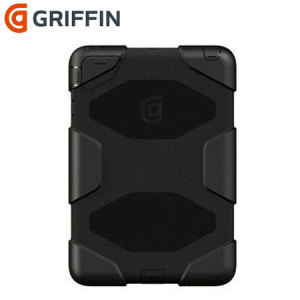 Griffin Survivor iPad Mini 3 / 2 / 1 Case - Black

Product Reference: 37178
"Ultimate protection for my devices"
This item is covered by our
Christmas Extended Returns Policy
Write a review
Deji Mircea Dan
Cluj Napoca
6th December 2014

Ipad Mini & Htc M7
Ultimate protection for my devices
When it comes to cases for my devices, only mil-tested will do. The Otterbox Defender for my htc m7 has over a year of wear and tare and is still in good condition; a few scratches and bumps, but the phone inside it is in mint condition. Now I am proud owner of a Griffin Survivor for my Ipad mini. It is a very nice build, feels comfortably in the hand and will surely handle anything you throw at it. Good quality products. My order was processed and dispatched the same day, and arrived the next, 1900 km in 23 hours that is. WOW !
Did you find this helpful?
---
Anonymous
Leicester
8th January 2013

iPad Mini
Can't use with most Headphones or Lightning Accessories
A great case, and quite easy to fit, but there is one major problem with the design. I can't use any of my good quality on ear headphones, because the 3.5mm plug casing fouls the rigid internal frame of the Griffin Survivor; nor can I use any of my 3.5mm stereo extension leads. Now I find that the camera connection Kit won't fit either. Not a very good design of case if you want to continue using many of the standard iPad peripherals.
7 of 13 found this helpful.
Did you find this helpful?