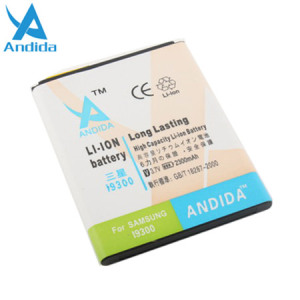 Andida Extended Samsung Galaxy S3 Battery - 2300 mAh

Product Reference: 37075
"So easy"
"this battery lasts longer"
This item is covered by our
Christmas Extended Returns Policy
Write a review
Stan
London
20th June 2014

Samsung S3
So easy
The best review I believe contains the words simple, quick and easy. My recent order from MobileFun was all of those. I ordered it (easy, quick) I paid for it (quick), It arrived (extra quick) It worked. I am happy. It was easy quick and simple.
1 of 1 found this helpful.
Did you find this helpful?
---
Colin Brown
London
1st January 2014

Samsung Galaxy s3
this battery lasts longer
"Andida Extended Battery for Samsung Galaxy S3 - 2300 mAh". Well it arrived quickly and was packed sensibly. Charged it up (quite fast to charge)and replaced the original battery in my phone. I'm very pleased with the extra time I get on my phone before it needs charging again.
Did you find this helpful?
---
Mark
Wakefield, UK
22nd July 2013

Samsung Galaxy S3
Works beautifully
Bought as a replacement for the worn out original battery. Works really well, battery life as good if not better than the original when new.
Did you find this helpful?