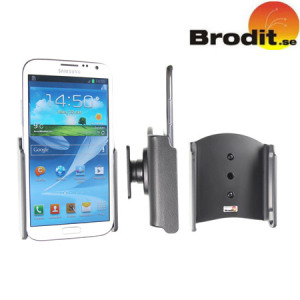 Brodit Passive Holder for Samsung Galaxy Note 3 and 2

Product Reference: 36915
"Super satisfied"
"Works great"
This item is covered by our
Christmas Extended Returns Policy
Write a review
Mike
York
29th December 2012

Samsung Galaxy Note 2
Good fit but hard plastic construction
This holder fits the Note 2 very snug but it is still easy to insert and remove. There is space behind the phone to allow for an extended battery or possibly the official Samsung flip cover. I had a previous Brodit iPhone holder that was flock lined; so am a bit disappointed that this holder is simply plastic, which may over time end up scratching the phone.
0 of 1 found this helpful.
Did you find this helpful?