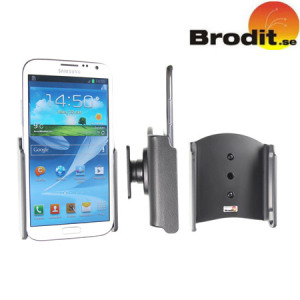 Brodit Passive Holder for Samsung Galaxy Note 3 and 2

Product Reference: 36915
"Super satisfied"
"Works great"
This item is covered by our
Christmas Extended Returns Policy
Write a review
Shaun
York
1st January 2014

samsung galaxy note 3
Super satisfied
Having ordered Brodit holders before, I expected quality. It arrived quick from date of purchase, was packed OK no waste of landfill materials. Item itself fit phone like a glove, full 360° swivel and tilt functions. Would buy again and also definitely recommend to all. Whichever device you have, from phone to tablet. This is the holder for everyone!
2 of 2 found this helpful.
Did you find this helpful?
---
Anonymous
Unknown
22nd January 2013

Brodit KFZ Halterung Galaxy Note 2
Da ich bereits für mein vorhergehendes Handy eine Brodit Halterung hatte, die stets gute Dienste leistete, entschied ich mich auch für mein neues Galaxy Note 2 für diesen Hersteller. Die Halterung war schnell auf den bereits bestehenden Sockel aufgeschraubt und alles passte wunderbar. Einziger Nachteil: Die Halterung ist nicht verwendbar, wenn man das Handy mit dem original Samsung Galaxy Note Flip Cover versehen hat, denn dann lässt es sich nicht mehr in geöffnetem Zustand in die Halterung einschieben. Ein Umstand, den man aber natürlich nicht direkt der Handyhalterung anlasten kann. Aussägen eines Schlitzes entlang der linken Führungsschine der Halterung verschaffte letztendlich aber auch dem Flip Cover den nötigen Platz. Nicht schön, aber effektiv.
Did you find this helpful?
---
Mike
York
29th December 2012

Samsung Galaxy Note 2
Good fit but hard plastic construction
This holder fits the Note 2 very snug but it is still easy to insert and remove. There is space behind the phone to allow for an extended battery or possibly the official Samsung flip cover. I had a previous Brodit iPhone holder that was flock lined; so am a bit disappointed that this holder is simply plastic, which may over time end up scratching the phone.
0 of 1 found this helpful.
Did you find this helpful?
---
Mark
Llanbedrog
27th November 2012

Samsung Galaxy Note 2
Works great
I've been using Brodit Pro Clip mounts for years, and this holds the Note 2 with no play, even in landscape. You will need to have your phone naked, as you won't be able to use this mount with a cover on it.
3 of 4 found this helpful.
Did you find this helpful?