Sorry, but Brodit Passive Holder for Samsung Galaxy Note 3 and 2 has been discontinued and is no longer available to order. For your convenience we've selected some alternative items that we think you may be interested in.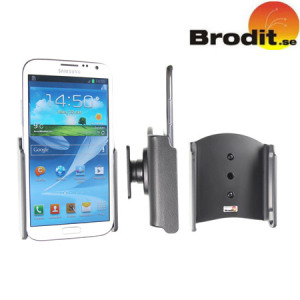 Brodit Passive Holder for Samsung Galaxy Note 3 and 2

Product Reference: 36915
"Super satisfied"
"Works great"
Write a review
Anonymous
Unknown
22nd January 2013

Brodit KFZ Halterung Galaxy Note 2
Da ich bereits für mein vorhergehendes Handy eine Brodit Halterung hatte, die stets gute Dienste leistete, entschied ich mich auch für mein neues Galaxy Note 2 für diesen Hersteller. Die Halterung war schnell auf den bereits bestehenden Sockel aufgeschraubt und alles passte wunderbar. Einziger Nachteil: Die Halterung ist nicht verwendbar, wenn man das Handy mit dem original Samsung Galaxy Note Flip Cover versehen hat, denn dann lässt es sich nicht mehr in geöffnetem Zustand in die Halterung einschieben. Ein Umstand, den man aber natürlich nicht direkt der Handyhalterung anlasten kann. Aussägen eines Schlitzes entlang der linken Führungsschine der Halterung verschaffte letztendlich aber auch dem Flip Cover den nötigen Platz. Nicht schön, aber effektiv.
Did you find this helpful?