Sorry, but The Ultimate Kindle Fire HD 2012 Accessory Pack has been discontinued and is no longer available to order. For your convenience we've selected some alternative items that we think you may be interested in.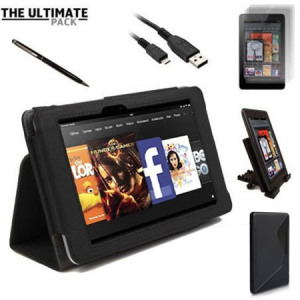 The Ultimate Kindle Fire HD 2012 Accessory Pack

Product Reference: 36853
Write a review
Diana Berns
Spain
7th August 2014

Kindle fire
GREAT PRODUCT
Wow, what good value and great service. I made a mistake on my address and was not able to alter it, so my parcel was sent to the wrong place, after a couple of emails to customer service they sent it,out again. And even though I live in Spain it arrived in 2 days. The cost off postage makes Amazon look like robbers. Under 3 pound for packing and postage to spain. Wish I could buy everything from you. Thank you. By the way. The product is absolutely great as well, love the way it turns the kindle off and on. I actually only wanted the screen protectors but look what I got as well.
Did you find this helpful?
---
Nancy Mchugh
Ocala Fl
30th July 2014

tablet accessories pack
I was quite pleased with this product. The quality was good.. Delivery was quick.It fit my tablet perfect.
Did you find this helpful?
---
Jessica
Bolton
9th January 2014

Kindle Fire HD
Brilliant
My accessory pack which i recently received of you was brilliant, it contained everything i needed for an amazing price, honestly the best price ive seen as the others on other websites were hell of a lot dearer. The cases are so useful for transporting my kindle around and it makes me feel so much better that i know my kindles safe in a secure, lovely looking case. I am so pleased with my purchase and i will definitely be ordering from you again for my other devices. Thank you.
Did you find this helpful?
---
hazel munro
wick
3rd December 2013

kindle fire hd
spot on
great just what I needed thank you
Did you find this helpful?
---
Terry
Devon
8th May 2013

Kindle Fire HD
Does exactly what it says on the box
Just what I needed to protect the kindle. Perfect and not too expensive.
2 of 2 found this helpful.
Did you find this helpful?
---
chris
preston
13th January 2013

kindle fire hd
Bargain!
After receiving my Kindle and wanting to protect it,i was a little put off by the amazon and waterstones prices of £30 plus for a case,then stumbled across this pack and got a good quality case as well as screen protectors another gel case,stylus and seperate stand for £25,a real bargain and would definately recommend it.
3 of 4 found this helpful.
Did you find this helpful?
---
JP
United Kingdom
1st January 2013

Kindle Fire HD
Good!
Bought this because I wanted screen protectors & a cover & to buy separately would have cost too much. I use the leather style cover. Looks nice on, fits nice & snug & doesn't slip. The flap folds up to a stand which is handy & initially I was worried because it doesn't seem to flatten out flush when closing but it does & it turns off the device as promised. I don't need to use the stylus but it does work & has a handy holder at the side & doubles up as a pen as well. Haven't tried the stand or silicon cover but they look OK, no reason to worry. Admittedly it seems a waste to have all these items when I only really need two of them but to be honest I'm glad I have the choice & as said earlier it was cheaper to buy this one pack than buy a cover & screen protector separately.
4 of 6 found this helpful.
Did you find this helpful?
---
Marion von Kobylinski
Slough
14th December 2012

Haven't yet
Christmas Presents
Happy Yuletide all, just to advise have ordered 3 of these as Xmas presents so at present have no idea whether they work or not but am sure given past experience with Mobile Fun they will be just fine. If not I'll surely let you know
3 of 5 found this helpful.
Did you find this helpful?