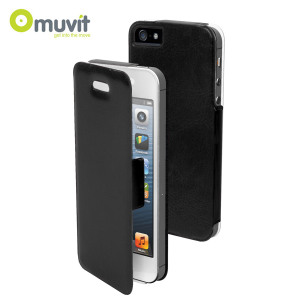 Muvit Ultra Thin Diary Flip Case for iPhone 5S / 5 - Black

Product Reference: 36761
"'just what i was looking for'"
"Perfect! "
This item is covered by our
Christmas Extended Returns Policy
Write a review
Allan Hannah
Cumbria
2nd June 2014

iPhone 5s
'just what i was looking for'
fast delivery service, great product (not bulky and it protects the iPhone 5 very well
Did you find this helpful?
---
Anonymous
Unknown
6th March 2014

Iphone 5S
Really pleased except one slight problem.
I really like this case. It makes my new iPhone 5S feel secure to hold, the phone fits easily into the case, it closes around it really nicely and is easy to open and close. It is slim and feels protective, especially in my pocket with the screen covered too. You can fold it around the back when using the phone and it drops down when using the camera. The only problem is the cut-out for the charger is slightly mis-aligned, meaning I've had to take the phone out of the case to charge it. MobileFun said I could return it and recommended a different case but because I like it to much, I've managed to bend and squeeze the opening so I can now get the charger in. I think in time, the opening will remain open enough to charge it. Just a shame I've had to fiddle with it but I do really like it apart from that little niggle.
Did you find this helpful?
---
Eamonn
London
21st September 2013

I phone 5
Useful case
I found the case to be good quality and useful for keeping my phone protected. The cover folds over the screen to ensure no scratches to the screen
Did you find this helpful?
---
Barry McLaughlin
Northern Ireland.
2nd August 2013

Iphone 5
Perfect!
Great fit, great protection for my iphone. Price is excellent for the product. Mobile fun delivery was super fast as usual. Well done mobilefun.
1 of 1 found this helpful.
Did you find this helpful?
---
RT
London
24th March 2013

iphone 5
Stylish, thin and good quality
This is a very thin, stylish case for the iphone which doesn't add significant bulk to the phone, unlike many other cases. Contrary to the previous reviewer, you don't have to fold the case back to make a call - calls can be made when the case is closed! However, you may want to choose the black version instead, as white cases become dirty quickly.
Did you find this helpful?
---
k dale
United Kingdom
3rd December 2012

iphone 5
Could be better
The case is slim and shows the iphone slimness off nicely, however the front cover doesn't fold all the way back when making or receiving a call which is annoying, and you can't plug the charger connector into the phone with the case on, the hole in the case is slightly too small.
3 of 5 found this helpful.
Did you find this helpful?