Sorry, but Belkin iPhone 5S / 5 Pocket Case - Pink has been discontinued and is no longer available to order. For your convenience we've selected some alternative items that we think you may be interested in.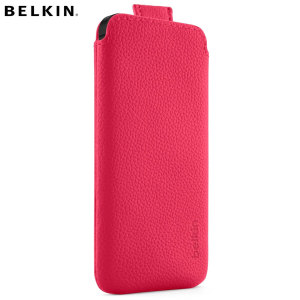 Belkin iPhone 5S / 5 Pocket Case - Pink

Product Reference: 36389
"Excellent!"
"Nice fit, just as expected"
Write a review
Viv
Sheffield
9th September 2013

iPhone5
Iphone 5 pouch
I do like this pouch, as it protects my phone in the way I store it, however I would have preferred the pull tab to be on the outside of the cover. Other than that, slim, sleek and sexy.
Did you find this helpful?
---
Anonymous
Unknown
21st January 2013

iPhone 5
Case / Pouch for an iPhone 5
I bought a pair of these cases for some business phones (iPhone 5). The people using the phones wanted a slim, leather, close fitting pouch/case that didn't make the phones much larger in their pockets as well as offering good protection when not in use against scratches or small chips. They didn't want to use a bumper. Having experienced Belkin products before, and thought them to be of good quality and value, this was selected. Upon delivery the cases are indeed of good quality. But did feel very tight fitting at first. With time they have stretched slightly and now fit very well. The only frustration I have with them is that the "Pull-Tab" for removing the phone from the case sticks out of the top. this can snag or catch. If it came through a cut in the case on the side and not out of the top that would be a better design in my opinion. Overall I'm happy with the purchase and would consider buying these again if required.
1 of 2 found this helpful.
Did you find this helpful?
---
Chris S
Unknown
29th November 2012

iPhone 5
Exactly what I was looking for
After smashing the screens of a few Apple products I wanted a cover that would provide a small degree of protection without bulking up the slim iPhone 5. The Belkin case fits the bill perfectly as it is snug and light. I doubt it would protect against a major drop but might just avoid a smashed screen if you're lucky.
Did you find this helpful?
---
Richard Leddu
Cavan
13th October 2012

Case
Good quality , very handy with the "pull " eases the phone out and not bulky easily fits in pocket
Did you find this helpful?