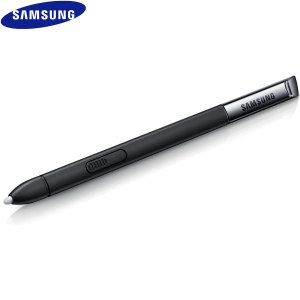 Genuine Samsung S-Pen for Galaxy Note 2 -ETC-S1J9SEGSTD

Product Reference: 36365
"Perfect"
"Ordered white got the black one"
This item is covered by our
Christmas Extended Returns Policy
Write a review
Marco P
Florida
29th April 2014

Perfect OEM Part!
Cannot express how happy I am with this purchase, considering this is the third time I buy a new S-Pen; this item is an official Samsung product, hover/pressure-sensitivity are just like my original, something that I hold in high regard as a commercial artist. I have bought knock-offs from other vendors that have failed me only after a few weeks of use. A 'MUST-BUY' if you are in the market for a replacement/back-up.
Did you find this helpful?
---
Anonymous
Co. Meath
21st April 2014

Handy to have
As my existing stylus is in constant use, it is getting very worn now, so rather than wait till 'I have to order a replacement' I have decided to be prepared and have one in hand.
Did you find this helpful?
---
Timmy
United Kingdom
4th December 2013

Samsung Note 2
Perfect
This is an original OEM item that comes in an original Samsung packaging. Seeing it alone in that package fills you with confidence, and quite happy to say this;it works perfectly just like the original one I lost.
Did you find this helpful?
---
J.Russell
Dublin
27th August 2013

Galaxy Note 2 Replacement S-Pen
Ordered on a Thursday, delivered following Wednesday - so ok there (minor hickup when stock level changed from 'due today' to 'due in 2-3 weeks' so sent email to query order -had prompt response & product was dispatched ... only problem was I'd ordered a black one & received a white one! ... lucky it matches my new Otter Box case otherwise it would have been returned) Will use service again as product selection is good.
Did you find this helpful?
---
Andrew Woodvine
Bangor
5th June 2013

Note 2
Ideal replacement
Bought this as my previous S-Pen became inverted. This replacement is exactly the same type as the original. I felt a little lost without the use of my S-Pen so I'm now happy again.
Did you find this helpful?
---
Joe
Newcastle
4th June 2013

note2
easy
Ordered on the night. Dispatched in the morning. Received the following day. A+ service. Genuine samsung product. Perfect workong order. One small tip.. if you dont want to have to buy this product dont attempt to fix your existing one by taking it apart.
Did you find this helpful?
---
Anonymous
Dublin
31st May 2013

Perfect:)))
Very happy with my purchase, 5 stars for MobileFun:)))
Did you find this helpful?
---
Anonymous
Unknown
10th December 2012

Samsung Galaxy Note II
Ordered white got the black one
Product brilliant but zero stars for mobile fun. I ordered the white one but got the black s pen instead.
2 of 5 found this helpful.
Did you find this helpful?