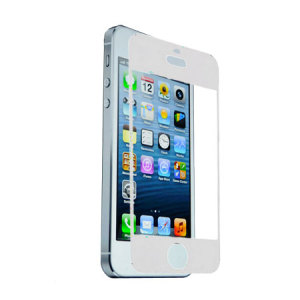 Moshi iVisor AG Anti Glare Screen Protector for iPhone 5S / 5 - White

Product Reference: 36323
"A Must Buy"
"What it said on the tin"
This item is covered by our
Christmas Extended Returns Policy
Write a review
Elsbeth
Wezep
24th January 2014

Iphone 5
Super!
Perfecte screenprotector, eenvoudig aan te brengen, mooi glad, goed te corrigeren. Zijn geld zeker waard!
Did you find this helpful?
---
Roy Simon
Hoensbroek
11th November 2012

Iphone 5
De perfecte Screenprotector
Normaal bestelde ik altijd de brando screenprotector, maar om een of andere reden liet de screenprotector los (Zijkanten) Dus toen maar een andere geprobeerd en dat was de Zagg Invisible shield full body, pffff dat was helemaal niks precies gedaan volgens de beschrijving drie dagen gewacht maar nog steeds bubbels erin… Toen een tip van iemand gekregen om de Moshi Ivisor Anti Glare Screenprotector te kopen…en inderdaad eindelijk wat er gezegd wordt dat het ook nog eens klopt…erg makkelijk aan te brengen en echt 100 % geen bubbels…iedereen die een goede Screenprotector zoekt kan ik deze aanraden !! Super tevreden!!
Did you find this helpful?