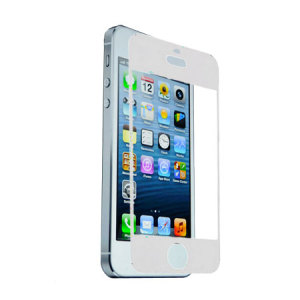 Moshi iVisor AG Anti Glare Screen Protector for iPhone 5S / 5 - White

Product Reference: 36323
"A Must Buy"
"What it said on the tin"
This item is covered by our
Christmas Extended Returns Policy
Write a review
Vicki
London
9th May 2014

iPhone 5s
A Must Buy
I've had Moshi Anti Glare screen protectors for the last 2 years and they are amazing, great protection and last for ages had 2 for my 4s (and just bought this for my 5s as they are in my opinion the best screen protector around and to top it of NO bubbles at all . Will always stick with this brand as a top notch product and service from mobile fun.
Did you find this helpful?
---
Trevor
Peterborough
3rd March 2014

iPhone 5
What it said on the tin
I have had numerous Screen Protectors, this is the fourth for this mobile alone. However can I say the best yet and from first impressions I'll not need another until I get a new mobile. Easy to fit and lived up to the guarantee of 100% no bubbles. Well done to the manufacturer and MobileFun for marketing the product.
Did you find this helpful?
---
Julian
Swindon
17th January 2014

iPhone5S
Does exactly what it says on the box!
I've always been a bit sceptical about claims made on the internet but this screen was a joy to fit and allowed a couple of adjustments before its final positioning. Initially, it adds a small depth to the 5 but this quickly ceases to be noticable. Easy to keep clean and no bubbles or trapped air pockets. Good value.
Did you find this helpful?
---
nor azwan abd aziz
Poole
13th October 2013

iphone 5s
Amazing
Amazing product,easy and simple...
Did you find this helpful?
---
Hazel Carey
Ipswich
18th July 2013

Iphone5
Best screen cover I have ever had
This item was so easy to fit and looks fantastic
Did you find this helpful?
---
Peter Woodward
Unknown
25th January 2013

iPhone 5
very pleased saved my screen
Very easy to apply no bubbles etc. No glare and has no effect on readability of the screen. I dont know how but somehow a deep scratch has appeared on the screen protector but has not damaged the phone screen itself. Normal screen protectors would have offered no protection. Will replace
Did you find this helpful?
---
Anonymous
United Kingdom
24th November 2012

iPhone 5
The perfect Screen Protector!
Having failed miserably at applying the usual screen savers plus them curling at the edges if the phone case does not cover enough of the front screen, I decided to opt for the Moshi IVisor AG Anti Glare Screen Protector for iPhone 5. All I can say is WOW! I am thrilled with the results! The protector is thicker than the usual and therefore so much easier to apply. It can also be washed and re-applied... well worth spending that bit extra! Having read reviews that a rainbow appears in the centre of the screen I was a little apprehensive about purchasing this product as it's more expensive than others I've used. No rainbow has appeared! The screen is extremely clear and being a matt surface (anti glare) means I can actually see the screen better than without! From now on this screen protector is a must!
Did you find this helpful?
---
Atif Hussain
Luton
8th November 2012

iPhone 5
Good Screen Protector
This is a good screen protector, with the added value of being able to wash it and reusue it in case it gets dirty! But one slight problem is, is that it does affect your iPhone's display a little, but the anti glare and no bubbles affect is fantastic. Been 2 weeks and this product has been fine so far.
1 of 2 found this helpful.
Did you find this helpful?
---
Sue Sloan
Unknown
16th October 2012

iphone5
A MUST for every iPhone owner!
I first purchased this Item when the owner of the iphone 4. The security it gives regarding the screen is such a relief. All cases are now able to be used even the flimsy designer backs !!The item fits exactly and is very easy to apply. It can be taken off and on for cleaning, The first item I ordered when purchasing the new iPhone 5 was the Moshi visa. Once purchased it is with you for good. No bubbles! No replacement needed! A real MUST of all iphone owners
Did you find this helpful?