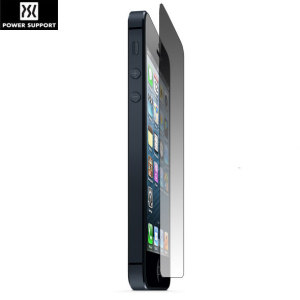 Power Support Anti-Glare Film Set - iPhone 5S / 5

Product Reference: 36255
"Vast improvement"
"Best in show..."
This item is covered by our
Christmas Extended Returns Policy
Write a review
Graham
Doraet
25th October 2014

Iphone 5
Vast improvement
Two well used iPhone 5's whose protection film had run out of time. Ordered these as thy were middle price range. I expected the usual issues of bubbles and dust. I must say I am extremely impressed with the anti-dustsheet which worked perfectly and the two films went on two phones first time no bubbles - excellent quality. The slight matte finish is a bonus. Excellent product.
Did you find this helpful?
---
shane
south coast
15th November 2013

iphone 5s
perfect
this screen cover is very easy to fit and feels great to use.
Did you find this helpful?
---
John Mason
Kent
9th November 2013

iPhone 5S
The highest quality
I have used this brand before on a previous iPhone and although one of the more expensive choices the Power Support Anti Glare Film is, to my mind, the only choice. The application, using the dust removal sheet, is quick and easy resulting in a bubble free film. The film is thicker than most, making application easier, but the clarity is superb with no loss of colour or intensity and glare is totally eliminated. A great product and worth every penny.
Did you find this helpful?
---
Mark Pollard
Collinswood
9th July 2013

Best on market
I have use several films on mobiles. Power Support Anti Glare film is the only one I have ever used that is true Anti Glare without any unusual colour hues and easy to apply. It is also great on my iPad. No fingerprints or smudges.
Did you find this helpful?
---
Roland
Birmingham
17th March 2013

Iphone 5
Glad I tried it!
I always hesitated to try any Anti-glare film, thinking it would reduce the colours and overall screen quality, but Im glad I tried it and Im very happy with its performance.
Did you find this helpful?
---
Joe
Reading
16th February 2013

iPhone 5
Best in show...
I am a bit of an obsessive when it comes to my gadgets so when I finally got my iPhone 5 I was determined to get the best screen guard I could find. Trawled the review sites and settle on this one (Other option was a glass one, but I am not keen to add any bulk to teh phone even if it is only .4mm). Just as the reviewer said, easiest screen ptotector I have ever applied. And it looks awesome.
4 of 4 found this helpful.
Did you find this helpful?
---
Mark P
Unknown
29th December 2012

Iphone 5
Perfect
Ordered this yesterday after spending ages looking at screen protector reviews, must be the easiest protector that I have ever fitted, no air bubbles at all. No more fingerprints on the screen & the protector is virtually invisible too. The previous reviewer who commented on the extra holes on the film they are there for a reason so the various sensors are not blocked by the film. One happy customer here and it was reduced in the sale. Well done mobile fun!
2 of 2 found this helpful.
Did you find this helpful?
---
Anonymous
Unknown
19th November 2012

iPhone 5 (Black)
Too many holes if putting on a black iPhone
I was very disappointed with this. I've bought a few Power Support screen protectors over the years and it seems they are now cutting costs by creating one film to fit the black or white iPhone. This means 2 unnecessary extra holes if you're putting it on the black one. I think it's a bit sneakily done too as it's not mentioned in the description of the product and the picture is not an actual representaion of what you get i.e. no holes shown. Not exactly "precision cut for a perfect fit". That being said, I can't fault the quality of the protector, it's good as always. Just a shame about the extra holes!
1 of 2 found this helpful.
Did you find this helpful?
---
Anonymous
Unknown
31st October 2012

iPhone 5
Perfect
I've been waiting a while to get the powersupport screen protector for the iPhone5. This one is exactly what it says on the tin. It is the Japanese version, so the packaging is different, that's it. Delivery was prompt and the whole transaction was zero-fuss
4 of 5 found this helpful.
Did you find this helpful?