Sorry, but DODOcase HARDcover for Google Nexus 7 - Charcoal has been discontinued and is no longer available to order. For your convenience we've selected some alternative items that we think you may be interested in.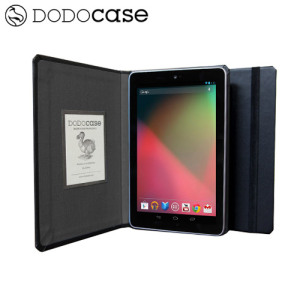 DODOcase HARDcover for Google Nexus 7 - Charcoal

Product Reference: 36084
"Excellent case"
"An attractive and functional case"
Write a review
Jacqui
Thurrock
9th December 2013

nexus 7
Uncompromised Style
Beautifully crafted hardback book case giving the nexus 7 the protection it deserves with style. Nothing flashy, just good old fashioned quality. Tape magically holds the tablet in a grip of steel with no covering edge to spoil the sleek lines of the screen. A must for the discerning nexus owner.
Did you find this helpful?
---
Colin
Rugby
15th July 2013

Google Nexus 7
An excellent hard back cover for the Google Nexus 7
This cover does exactly what it is advertised to do. It is robust and stylish, and it is functionally perfect. For me though, the best feature is that it disguises the tablet and makes it look like a small book, thus deterring would-be thieves. I recommend this product to everyone.
1 of 1 found this helpful.
Did you find this helpful?
---
Paul
Selby
21st June 2013

Nexus 7
Excellent case
I have had this case for a couple of months now and thought it was time to give a review. I must say that I am very impressed, in fact I would say that it is the best device case I have used. I was a bit unsure about the sticky pads to hold the device but they work very well and have held the device securely since I put it in to the case without an slips or issues. The case is very durable, it's thrown in my work bag day after day and still look as good as new. The automatic switch off when closed feature works and is very useful and the elastic strap holds the case securely closed. The case was a bit stiff at first but with use has now worn in and easily opens and folds right back on its itself during use. When folded back it gives quite a nice angle for typing on a desk or table. To watch tv/movies the case can be used as a stand by slightly opening the edges of the case and using a small plastic clip to stop the back cover from slipping and the device falling flat, this is a simple solution but works quite well. I would recommend this case to anyone, it protects the device well and look good. Wish they made a book type case like this for the Galaxy S3, as if they did I would certainly buy one.
1 of 1 found this helpful.
Did you find this helpful?
---
Max
Glasgow
16th June 2013

Nexus 7
Well, it's very nice but...
This case is reviewed on other sites as THE case for the Nexus 7 so, as the one I actually wanted wasn't available, I went with this one. It's very well made and obviously high quality. My only gripe is that it doesn't actually seem to fit my Nexus 7 that well. I fitted the device very carefully but I still feel that the case isn't quite deep enough for the unit. You HAVE to use the elastic strap to shut the case and to keep it shut otherwise the Nexus just stays powered up. It's only a small gripe as actually it suits me very well but you should be aware.
Did you find this helpful?
---
Richard
Aberdeen
10th May 2013

Nexus 7
Perfect
Initially I was unsure about buying this cover because I thought it might degrade the user experience as the tablet is fixed semi permanently (via "special" stick tape) to the cover but it definitely doesn't. I primarily wanted it for protection whilst in transit so considered buying a sleeve but feel this provides greater protection whilst looking great. Additionally the cover disguises the tablet as a notebook making it less likely to attract attention from thieves. The sleep wake function of the cover is very useful as well. My only gripe which isn't really a big deal is it is slightly hard to reach the volume buttons on the side of the tablet. I imagine this could be a bigger problem for those with bigger fingers.
Did you find this helpful?
---
Anonymous
Clare
14th March 2013

Quality Case
I bought this case after reading a lot of reviews and I've not been disappointed. I wanted something that looked a bit different and that wouldn't add too much bulk to my Nexus 7, as I often carry it in my handbag. The Dodocase is well-finished and looks great. Mine makes that crackling noise that hard-cover books make when folding back the front cover, but I think that only adds to its charm, and seems to be lessening with use. Delighted with my purchase and I wouldn't hesitate to recommend this case.
Did you find this helpful?
---
Ian
Linslade, Beds
27th January 2013

Nexus 7
Perfect.......
I love this case, protects my Nexus and looks good.
Did you find this helpful?
---
Lee
Unknown
23rd January 2013

Nexus 7
Great Quality & Design
Overall, my tablet feels protected and the cover is well built. The device is attached by re-usable sticky strips (tested 5/6 times), which is interesting and looks better than corner grips or a clip-on. The only complaint that I have is that you need to use another object to balance it in a comfortable position.
Did you find this helpful?
---
phill
Manchester
22nd January 2013

Nexus 7
Great style and function
I bought this for my wife and she loves it (so do I). It's well made, a great fit (she doesn't give the adhesive a second thought) and most of all gives the Nexus 7 a really classy feel. Seriously recommend it over a case that overlaps the screen.
Did you find this helpful?
---
adam
Brighton
22nd January 2013

Nexus 7
wonderful
Exactly the sort of case I was looking for, sturdy and understated, and, given that the device is only held in place with adhesive tape, surprisingly secure-feeling. I had never used the site before and was very pleased with the speedy delivery.
1 of 1 found this helpful.
Did you find this helpful?
---
Vladimir Djuric
Belgrade
22nd January 2013

Nexus 7
Money well spent
Great looking case, adhesive holds the tablet really well, and the magnet on the front for sleep mode works perfectly. I was worried about the speaker at the back, but it is loud enough. If youre looking for a case that just fits and works, look no more. Great quality, recommended. I ordered it from Serbia and it arrived in time, packaged nicely.
2 of 2 found this helpful.
Did you find this helpful?
---
Chris
United Kingdom
22nd January 2013

Nexus 7
Almost perfect case
This case is exactly what I was after. Slimline, stylish and nice to hold. It really does feel like a quality product, and justifies the price. Only bad point would be the power and volume buttons are a little harder to reach when in the case, but that's not really much of a problem.
Did you find this helpful?
---
Carl
Surrey
21st January 2013

Google Nexus 7
Ideal case
Makes the Nexus look like a Moleskin Diary..quality product.
1 of 1 found this helpful.
Did you find this helpful?
---
girlinlondon
London
21st January 2013

Google Nexus 7
Excellent
Excellent case, fits perfectly and looks very sylish, if you want a discrete cover for your tablet. I was worried that the cover would effect the sound as it covers speakers at the back a bit, but is actually makes the sound better as reflects off the cover towards you. Well made, pricier than over covers but in my opinion worth the money.
Did you find this helpful?
---
Anonymous
Unknown
20th January 2013

Nexus 7
Dodo Case for Nexus 7
I have purchased four of these over christmas for various family members. Its a fantastic case,looks great, very stylish, has a very tuff out cover that can easily take knocks and lets the tablet sit firmly inside without the need to cover the bezel as it uses three tacky pads that work extremely well (never had a tablet come loose yet). Overall I would totally recomend the Dodocase if you want something that looks smart and will protect your tablet without obscuring the screen.
1 of 1 found this helpful.
Did you find this helpful?
---
mark
Sheffield
19th January 2013

Nexus 7
Elegant solution
Excellent service from MobileFun, product not in stock but order was taken and delivered as soon as stock came in...kept informed throughout. The case is superb, understated, unfussy and works like a dream. I am extremely pleased and you have sold at least one more on the back of my showing it off. It does look like a book, slim and pocket sized and suits the premise of the Nexus 7 to a T. Just been reading my book (2001 a Space Odyssey) on the Nexus and, knock me down with a feather, a guy sitting in a moon shuttle is passing the time reading the news and catching up with his work on a "Newspad".
Did you find this helpful?
---
Michael Parker
Sheffield
18th January 2013

Nexus 7
Like Giving Your Nexus 7 a Knighthood
My Nexus 7 was pretty sweet to begin with, but when snuggled up inside the DODOcase it's transformed like Kate Middleton social class, middle class to royalty. The case just radiates an aura of quality and knowing that each one is individually handmade using traditional book binding techniques makes you appreciate the time and effort that's gone into making your case. In short, it's brilliant and in a different league to all other cases.
2 of 3 found this helpful.
Did you find this helpful?
---
Francesca
Derbyshire
10th January 2013

Beautiful case, well worth the money
This is a very classy piece of kit indeed. It is so beautifully designed and made, makes my tablet look like a posh hardback book and offers good protection too.It looks like it will last for years. I like the dodo as well! Well worth the money. One very happy customer.
Did you find this helpful?
---
Hertha Giunta
Campton
29th November 2012

DODOCASE
Am impressed with not only the quality but how quickly the items I ordered were delivered. This case is great for the Nexus 7 and serves very well to protect the screen. Would recommend it without a doubt! Am also very pleased with the Blaupunkt headphones.
1 of 1 found this helpful.
Did you find this helpful?
---
Anonymous
Glasgow
26th November 2012

Nexus 7
Great piece of kit
I chose this cover because it appeals to my sense of humour. When it arrived I was more than satisfied with the quality. The tablet feels secure on the sticky pads and the sleep function within it works fine. It really does look like a notebook when closed and quite a classy one at that. It does muffle the speaker at the back of the tablet but not too much. The price at Mobile Fun was excellent.
Did you find this helpful?
---
Steve
Unknown
19th November 2012

Google Nexus 7
Good, not quite perfect
To start off with this is the first case I've tried for the Nexus 7 so I don't have a lot to compare it to. That said the construction quality seems good, it looks and feels like a good quality notebook inside and out. The wake sleep function works well if you position the tablet correctly, although I wonder if DODO had made the magnet that activates it ever so slightly larger this would have been easier. The one other thing I noticed with this case that I think DODO could perhaps improve is that cover doesn't seem to site quite flat on the device when closed but not retained by the strap. Maybe this will get better over time as the spine gets more wear. Perhaps it could be improved with an extra half a mm height to the spine. I doesn't however seem to affect the wake sleep functionality. The Nexus 7 controls and ports all seem accessible enough, yes side buttons are a little harder than I would like but this is down to the Nexus more than the case, they are still usable enough for me. Standing it up on edge in landscape mode with the strap acting as a retainer feels more stable than I was expecting. The adhesive seems plenty strong enough at least as new. Waving the cover upside down, the device didn't fall off. It took quite a lot of effort to separate the cover from the device, I'll be doing this with care in the future. All in all I think I'd definitely purchase another DODOcase product in the future. The product and delivery packaging was good, the case arrived in good condition and sooner than I had expected, would order from MobileFun again.
3 of 4 found this helpful.
Did you find this helpful?
---
Noel Lim
Sydney
5th November 2012

Great product
I trusted the other reviews here at mobilefun, and they were spot on. Dodo hardcase for the Nexus 7 has a top quality finish and keeps your tablet slimline. It's actually easier to hold for me with the case too. The magnetic cover works a treat, the adhesive works very well. My minor gripes would be the crinkly sound when opening (i believe because its still new, may go away), and that the volume/wake button is a little harder to access. I haven't tried the elastic clip on slippery surfaces, nor can I comment on whether the audio quality is affected.
Did you find this helpful?
---
Ryan
Isle of Wight
2nd November 2012

Google Nexus 7
High quality cover
After reading some not so great reviews on the official cover, I decided to go for the 'Rolls Royce' of covers and it didn't disappoint. It basically wraps your nexus up in a hard cover book binding cover. The quality is great, the stick on pads work well and it even switches the screen on and off when opening and closing the cover, like the good ipad covers do. I would recommend this cover of you want to spend a little extra for a high quality, good looking case. The cover arrived very quickly and was packaged nicely.
1 of 2 found this helpful.
Did you find this helpful?
---
John
Southampton
29th October 2012

Google Nexus 7
Really nice little case, make it look like a book!
If you're looking for a case similar to the Kindle style cases, this one is it. It's made by a group who make hardback covers for books, making the nexus look and feel just like one.
1 of 2 found this helpful.
Did you find this helpful?
---
david poulter
United Kingdom
26th October 2012

google nexus 7
adds a little class
Ive been looking for a case that will not only protect the nexus 7 but also looks the part. This case fits the need perfectly. Easy to add case with sticky and wow, its not moving at all. Have peeled off too and no marks or loss of adhesive! On a side note, ordered 25th, received 26th very impressed mobilefun!!
Did you find this helpful?
---
CD
United Kingdom
12th October 2012

Nexus 7
Fantastic Bit Of Old School Style For New Tech
Wasn't sure what I was going to get to be honest but am very satisfied. Its easy to fit to the Nexus and despite my reservations the re-useable adhesive is very strong and doesn't damage the device. It has kept my Nexus safe from bumps and bangs and actually makes it easier to hold and use. The cover looks fantastic and is extremely well made. It adds some old school charm and never fails to confuse people who think I am about to read a book rather than check my mail. All in all would definitely recommend this case and I am looking forward to getting more DODO cases for my other hardware.
1 of 1 found this helpful.
Did you find this helpful?
---
Ian
Lincs
25th September 2012

Nexus 7
Quality Hard Case
This is a well made quality case for the Nexus 7. It exudes craftsman like attention to detail and adds an understated elegance to an excellent tablet. Even the fixing method which worried me when I read about it just works. So glad I bought it.
Did you find this helpful?
---
Mark Bennison
Unknown
22nd September 2012

Nexus 7
Moleskine Look-a-like!
If you love Moleskine notebooks (like I do) then this is a must have case. It's the same principle of having elastic to secure the cover. And as it looks like a note book there's a theft deterrent too. The case itself looks to be well made and is sturdy. It holds the tablet well. Could have done with a little more angle when using the anchor on the elastic in perch mode, but a minor point. Sleep function works as advertised. Mobile Fun's customer service is excellent, by the way. I pre-ordered this when it was due in stock ("in a few days") and I was contacted by Mobile Fun offering me the option of cancelling as they couldn't confirm a delivery date from their supplier. I decided to wait anyway and the very next day, I had a mail telling me the case has been dispatched! It arrived in perfect condition.
1 of 1 found this helpful.
Did you find this helpful?
---
Anonymous
United Kingdom
15th September 2012

ideal alternate to leather cases
i have been using the case for a month and have no complaints. Delivery was prompt. The adhesive is extremely secure. The sleep function of the cover works perfectly and it is one of the best looking cases in the UK market. Anyone looking for a non-leather case, this is the one.
Did you find this helpful?
---
Mawsy
London
13th September 2012

Nexus 7
Perfect cover - just what I wanted
Great case - light but sturdy, comfortable to hold and to use as a stand. The adhesive is very strong, the case doesn't affect the speaker on the back and it looks very stylish. Nexus 7 and case have already survived a couple of chest-height drops...unscathed!
2 of 2 found this helpful.
Did you find this helpful?
---
Michael
Unknown
7th September 2012

Google Nexus 7 Tablet
An attractive and functional case
The DODOcase is both attractive and functional. The cover looks and feels like a hardback book, which helps to protect the screen from scratches and allows it to be carried in a laptop case or bag without being damaged. The fact that it looks like a notebook also helps deter would-be thieves. I personally don't like to advertise my gadgets to anyone and everyone. I wouldn't imagine the case would protect from major impact or falling from a great height, having no padding, but that shouldn't really be happening if you look after your goods. This is a very modern case which breaks the mould that other cases out there seem to be stuck in. And it's affordable too!
8 of 8 found this helpful.
Did you find this helpful?
---
alexander
Unknown
30th August 2012

nexus 7
Best cover I have ever owned.
This beautifully crafted,low profile cover is perfect for those looking for a classy alternative to the common leather and rubber cases..At first I was sceptical of the adhesive but it holds the nexus securely in place and is completely residue-free..
3 of 3 found this helpful.
Did you find this helpful?
---
Justin
Unknown
25th August 2012

Nexus 7
Stylish case - good quality
Probably the best case for the Nexus so far! Makes your tablet look like Moleskine notebook. Unconventional method of attaching tablet with adhesive pads works well so far but yet to see long term. Auto sleep/wake function works well.
12 of 13 found this helpful.
Did you find this helpful?