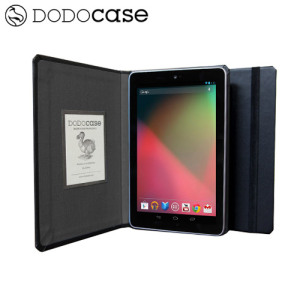 DODOcase HARDcover for Google Nexus 7 - Charcoal

Product Reference: 36084
"Perfect"
"An attractive and functional case"
Also available:
Write a review
Richard
Aberdeen
10th May 2013

Nexus 7
Perfect
Initially I was unsure about buying this cover because I thought it might degrade the user experience as the tablet is fixed semi permanently (via "special" stick tape) to the cover but it definitely doesn't. I primarily wanted it for protection whilst in transit so considered buying a sleeve but feel this provides greater protection whilst looking great. Additionally the cover disguises the tablet as a notebook making it less likely to attract attention from thieves. The sleep wake function of the cover is very useful as well. My only gripe which isn't really a big deal is it is slightly hard to reach the volume buttons on the side of the tablet. I imagine this could be a bigger problem for those with bigger fingers.
Did you find this helpful?
---
Ian
Linslade, Beds
27th January 2013

Nexus 7
Perfect.......
I love this case, protects my Nexus and looks good.
Did you find this helpful?
---
adam
Brighton
22nd January 2013

Nexus 7
wonderful
Exactly the sort of case I was looking for, sturdy and understated, and, given that the device is only held in place with adhesive tape, surprisingly secure-feeling. I had never used the site before and was very pleased with the speedy delivery.
1 of 1 found this helpful.
Did you find this helpful?
---
Vladimir Djuric
Belgrade
22nd January 2013

Nexus 7
Money well spent
Great looking case, adhesive holds the tablet really well, and the magnet on the front for sleep mode works perfectly. I was worried about the speaker at the back, but it is loud enough. If youre looking for a case that just fits and works, look no more. Great quality, recommended. I ordered it from Serbia and it arrived in time, packaged nicely.
2 of 2 found this helpful.
Did you find this helpful?
---
Chris
United Kingdom
22nd January 2013

Nexus 7
Almost perfect case
This case is exactly what I was after. Slimline, stylish and nice to hold. It really does feel like a quality product, and justifies the price. Only bad point would be the power and volume buttons are a little harder to reach when in the case, but that's not really much of a problem.
Did you find this helpful?
---
Carl
Surrey
21st January 2013

Google Nexus 7
Ideal case
Makes the Nexus look like a Moleskin Diary..quality product.
1 of 1 found this helpful.
Did you find this helpful?
---
mark
Sheffield
19th January 2013

Nexus 7
Elegant solution
Excellent service from MobileFun, product not in stock but order was taken and delivered as soon as stock came in...kept informed throughout. The case is superb, understated, unfussy and works like a dream. I am extremely pleased and you have sold at least one more on the back of my showing it off. It does look like a book, slim and pocket sized and suits the premise of the Nexus 7 to a T. Just been reading my book (2001 a Space Odyssey) on the Nexus and, knock me down with a feather, a guy sitting in a moon shuttle is passing the time reading the news and catching up with his work on a "Newspad".
Did you find this helpful?
---
Hertha Giunta
Campton
29th November 2012

DODOCASE
Am impressed with not only the quality but how quickly the items I ordered were delivered. This case is great for the Nexus 7 and serves very well to protect the screen. Would recommend it without a doubt! Am also very pleased with the Blaupunkt headphones.
1 of 1 found this helpful.
Did you find this helpful?
---
Anonymous
Glasgow
26th November 2012

Nexus 7
Great piece of kit
I chose this cover because it appeals to my sense of humour. When it arrived I was more than satisfied with the quality. The tablet feels secure on the sticky pads and the sleep function within it works fine. It really does look like a notebook when closed and quite a classy one at that. It does muffle the speaker at the back of the tablet but not too much. The price at Mobile Fun was excellent.
Did you find this helpful?
---
Ryan
Isle of Wight
2nd November 2012

Google Nexus 7
High quality cover
After reading some not so great reviews on the official cover, I decided to go for the 'Rolls Royce' of covers and it didn't disappoint. It basically wraps your nexus up in a hard cover book binding cover. The quality is great, the stick on pads work well and it even switches the screen on and off when opening and closing the cover, like the good ipad covers do. I would recommend this cover of you want to spend a little extra for a high quality, good looking case. The cover arrived very quickly and was packaged nicely.
1 of 2 found this helpful.
Did you find this helpful?
---
John
Southampton
29th October 2012

Google Nexus 7
Really nice little case, make it look like a book!
If you're looking for a case similar to the Kindle style cases, this one is it. It's made by a group who make hardback covers for books, making the nexus look and feel just like one.
1 of 2 found this helpful.
Did you find this helpful?
---
david poulter
United Kingdom
26th October 2012

google nexus 7
adds a little class
Ive been looking for a case that will not only protect the nexus 7 but also looks the part. This case fits the need perfectly. Easy to add case with sticky and wow, its not moving at all. Have peeled off too and no marks or loss of adhesive! On a side note, ordered 25th, received 26th very impressed mobilefun!!
Did you find this helpful?
---
CD
United Kingdom
12th October 2012

Nexus 7
Fantastic Bit Of Old School Style For New Tech
Wasn't sure what I was going to get to be honest but am very satisfied. Its easy to fit to the Nexus and despite my reservations the re-useable adhesive is very strong and doesn't damage the device. It has kept my Nexus safe from bumps and bangs and actually makes it easier to hold and use. The cover looks fantastic and is extremely well made. It adds some old school charm and never fails to confuse people who think I am about to read a book rather than check my mail. All in all would definitely recommend this case and I am looking forward to getting more DODO cases for my other hardware.
1 of 1 found this helpful.
Did you find this helpful?
---
Ian
Lincs
25th September 2012

Nexus 7
Quality Hard Case
This is a well made quality case for the Nexus 7. It exudes craftsman like attention to detail and adds an understated elegance to an excellent tablet. Even the fixing method which worried me when I read about it just works. So glad I bought it.
Did you find this helpful?
---
Anonymous
United Kingdom
15th September 2012

ideal alternate to leather cases
i have been using the case for a month and have no complaints. Delivery was prompt. The adhesive is extremely secure. The sleep function of the cover works perfectly and it is one of the best looking cases in the UK market. Anyone looking for a non-leather case, this is the one.
Did you find this helpful?
---
Michael
Unknown
7th September 2012

Google Nexus 7 Tablet
An attractive and functional case
The DODOcase is both attractive and functional. The cover looks and feels like a hardback book, which helps to protect the screen from scratches and allows it to be carried in a laptop case or bag without being damaged. The fact that it looks like a notebook also helps deter would-be thieves. I personally don't like to advertise my gadgets to anyone and everyone. I wouldn't imagine the case would protect from major impact or falling from a great height, having no padding, but that shouldn't really be happening if you look after your goods. This is a very modern case which breaks the mould that other cases out there seem to be stuck in. And it's affordable too!
8 of 8 found this helpful.
Did you find this helpful?
Your recently viewed items: