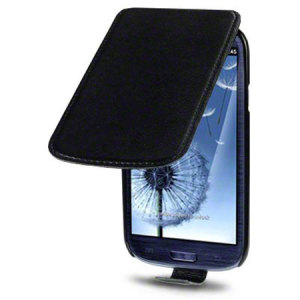 Pro-Tec Executive Leather Style Flip Case for Samsung Galaxy S3

Product Reference: 35756
"Exactly what I needed"
"Pro/Tech Cover"
This item is covered by our
Christmas Extended Returns Policy
Write a review
CMalliaros
Greece
28th June 2013

Samsung Galaxy S3
Very good case, but...
Very good case. The only thing that is missing is an opening to charge the phone with the case closed. I don't know if after some time of use, the hard plastic case will make any marks on the phone. Excellent delivery time. Just four days to deliver to Greece. P.S. Please change one of the photos of the product to match the real one (the magnetic fastener does not go on the other side of the phone).
Did you find this helpful?
---
Gary Moore
Belfast
4th February 2013

Galaxy S3 phone
Looks very Professional
This is a quality product and looks very bussiness like. It protects the whole phone, including the sides. It had a strange smell when it was new, but now after two weeks the smell has gone. What I dislike most about the cover is that it does not have a hole to connnect your charger and therefore you have to leave the phone open. Delivery was first class, next day, even to Northern Ireland. Overall I am well pleased with the cover.
Did you find this helpful?
---
Mike
Unknown
22nd January 2013

galaxys111
leather wallet
further to my recent review on this wallet headed BEWARE i stand corrected the cover is actually part of the wallet not the phone this i found when pulling the cover off so the wallet is a good way of keeping the phone clear of scratches
Did you find this helpful?