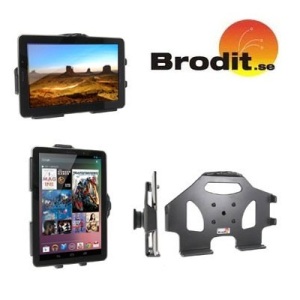 Brodit Passive Google Nexus 7 Car Holder With Tilt Swivel

Product Reference: 35752
"Great product !"
"A pure Android experience in the car"
This item is covered by our
Christmas Extended Returns Policy
Write a review
MARTYN SNOW
United Kingdom
23rd August 2014

nexus 7 tablet
Brodit is AMPS compatible
The Brodit securely holds the Google nexus 7.The tablet is easily placed and removed in seconds.I purchased the Nexus to use as a navigation device in my car and I wanted a dedicated holder. The Brodit is designed to be used with Brodits own in car system, but I wanted the holder to be more in line of sight and quickly removed if necessary. The Brodit does come with a swivel plate which has 4 holes for fixing. These holes are configured to match the AMPS standard, so that any fixing that is AMPS compatible can be fixed to this holder directly. I used the RAM system which means I now just have to change the holder if I change the tablet. The Brodit is nicely made but may seem overpriced when you have to purchase the fixing kit as well.
Did you find this helpful?
---
Nick
Sheffield
28th August 2013

Nexus 7
Great product !
I bought this to have a big satnav and additional play music. It fitted easily to the Brodit Pro Clip already mounted in the car. It's rigid, unobtrusive and holds the Nexus 7 perfectly, without spring load clips. The swivel feature means that you can angle it away slightly to avoid any direct sunlight. All in all a great product at a very reasonable price.
Did you find this helpful?
---
Anonymous
Rutland
15th July 2013

Nexus 7
Top quality from Brodit, as usual
Having used Brodit Pro-clips and device holders for a number of years I was sure this would be fit for purpose and it is. Solid and with a firm hold on the device. In conjunction with a Brodit Move-clip I can mount different devices on the Pro-clips in each of our cars in seconds, as required and be sure they will stay put.
Did you find this helpful?
---
Jason
Surrey
25th September 2012

Google Nexus 7
A pure Android experience in the car
I have been longing to mount my Nexus 7 tablet into my car. With Google Maps Navigation (turn-by-turn), Spotify, Google Search, etc I felt it the perfect car companion. If can be tethered via WiFi or Bluetooth to my phone for full internet access. First I purchased a Brodit ProClip - you will need somewhere to mount this holder and ProClip provides a platform that is designed to custom fit your car interior. After I received an email notification alerting the mount was in stock at MobileFun I ordered straight-away and received straight away. Great service! The mount has a good range of movement in tilt and full 360 degree swivel. The plastic feels of high quality and the Nexus 7 simply clips in and out, it can be removed or replaced in under a second. The mount has cavities allowing easy access to the micro USB port and the buttons for power and volume. Brodit make clear that ProClip system was designed to carry a phone, not tablet, and ones best judgement must be used. However, the Nexus 7 is lightweight and combined with this lightweight holder I have experienced no issues. You do not need to use a ProClip with this holder, the base of the holder is a small square with four holes for screwing or bolting to any surface or platform. I am very impressed with this car holder, and very much enjoy the new multimedia and navigation system in my car as a result. Thank you Brodit and MobileFun!
1 of 3 found this helpful.
Did you find this helpful?
---
Frank
Warwickshire
14th September 2012

Nexus 7
the perfect solution
Took me 5 minutes to replace my phone holder with this. Doesn't look obtrusive like the suction mounts. highly recommended
Did you find this helpful?