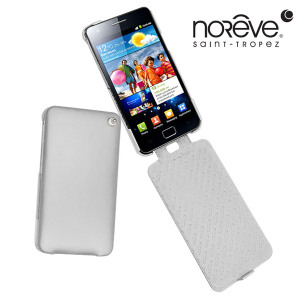 Noreve Tradition A Leather Case for Samsung Galaxy S2 i9100 - White

Product Reference: 35357
Also available:
This item is covered by our
Christmas Extended Returns Policy
Write a review
D S Kane
Kent
13th September 2011

Leather carrying case for Samsung Galaxy S2
I recently purchased the item from Mobile Fun (excellent service) and took ownership of the item. Very simple to use, even iff the phone fit is a little tight at first. The front flap folds back underneath the phone body which allows it to sit at a convenient angle when on a surface - useful. The quality of the product is excellent but my only gripe would be that the belt clip is a little too low, leading the top of the phone to dig into the hip when sitting down without first re-positioning it. Would strongly recommend this item! 9.5/10
Did you find this helpful?
---
Warren Gill
Guildford
19th August 2011

Not good.
Having had a Noreve case for an HTC Desire, I thought I'd get one for my new Galaxy S2. Very disappointed, the screw on the back is very poor & the slot in the top of it won't allow you to get a good grip with the supplied mini screwdriver, I tried unsuccessfully to extricate it and couldn't so it's been returned. I also don't rate the way that the case closes either, there being no strap & pop/magnetic fastener, instead relying on the flap sort of hooking over the end of the phone, which will undoubtedly cause a wear mark on the phone, so not good. So whilst the delivery from MF is very fast & efficient, the case isn't any good & I'd avoid it, I won't be having another, I'll take a refund instead.
10 of 10 found this helpful.
Did you find this helpful?
---
Alison
Staines
9th August 2011

Just Perfect!
Very happy with the case, fits perfectly and feels great. Really good service from mobile fun too. Very happy customer
3 of 3 found this helpful.
Did you find this helpful?
---
Barry Armstrong
Isle of Man
31st July 2011

Can't hear it ringing when in case!
I have had the case for over a month now, the quality is very good and it really does protect your phone..BUT - there is no cut out for the speaker, and it completely muffles the sound from the phone. You cannot hear a thing when someone rings you or texts. It's the ONLY downside to this phone, and if i could return it i would.
7 of 7 found this helpful.
Did you find this helpful?
---
Barry Armstrong
Isle of Man
30th June 2011

Noreve Tradition A Leather Case for Samsung Galaxy
Case is of exceptional quality and was a worthy purchase. Very happy with it.
1 of 2 found this helpful.
Did you find this helpful?
---
Phil Gould
Wolverhampton
27th June 2011

Samsung Galaxy S2 Case
This noreve case is a decent product - it does the job - but is not as good(in terms of quality) as I thought it would be.
2 of 3 found this helpful.
Did you find this helpful?
---
B M L
Stockport
27th June 2011

Noreve case for Samsung Galaxy S2 i9100
After waiting eagerly for the noreve tradition a leather case for the samsung galaxy s2 i9100 to become available I have to say that it has not come up to my expectation. I find that the lip that keeps the front of the phone covered tends to keep opening thus you have to keep shutting the cover quite a lot when you carry it on your belt. The opening for the usb charger socket is not lined up correctly and also because of the hard moulding being raised too high this also stops you inserting the usb plug to charge the phone via the case and you have to take the phone out of the case to charge it. Whilst the quality of the leather is good, with hindsight I would not have bought this product. Bml.
4 of 4 found this helpful.
Did you find this helpful?
---
ETK
Cambridgshire
27th June 2011

Perfect fit every time
If you have an expensive mobile it makes sense to protect it with the best possible case. You can't get better than this, its a perfect fit, beautiful leather, all your access holes exactally where they should be and very slim in the process. This case isn't the least expensive but it is the best.
Did you find this helpful?
---
Mash A
London
17th June 2011

Not worth it
It's well made and feels like quality however when I put my case in it and close the case the front cover sits awkwardly. This is due to the fact that on three of the corners the case is raised and curverd slightly so that it holds the phone in place. Unfortunately the front cover has NOT been cut in such a manner to take this into account, so it doesn't close cleanly and instead sits awkwardly most notably at the top right where you can clearly see a gap between phone and cover and is at an angle as there is no raise on the other side. If I only paid £5 or £10 for this case maybe I woud not mind but considering this is an apparently 'premium' product at £34.95 I'm quite disappointed.
22 of 23 found this helpful.
Did you find this helpful?