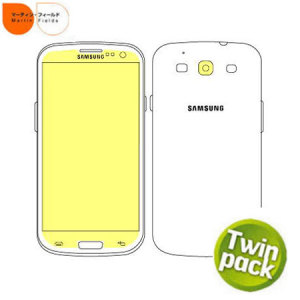 Martin Fields Screen Protector Twin Pack - Samsung Galaxy S3
Product Reference: 35152
"just incredible"
" Martin Fields Screen Protector Twin Pack - Samsung Galaxy S3."
This item is covered by our
Christmas Extended Returns Policy
Write a review
rdc
Unknown
21st August 2012

Samsung galaxy S3
poor fit, quality and fingerprint magnet
Shiny screen protector doesn't fit around the home button well. Started to peel off immediately due to curvature of the phone screen. Makes the screen harder to read in sunlight. Avoid.
0 of 1 found this helpful.
Did you find this helpful?
---
Kafe Sure
UK
2nd July 2012

Samsung Galaxy S3
Good job I got two
The single pack of this product was out of stock, so I got the twin pack. I have put many screen protectors on different devices, so know what to do, but I got in a real mess with these. Yes, both of them. The first one developed a dent! The fact I had so much trouble attaching it, and that it developed a dent may not be the fault of the product, except I had only used a dedicated stylus on it for a minute or so and I have never had that happen before. I then applied screen protector number two. I just couldn't get it to adhere properly, without air bubbles. In trying to remove it the plastic developed bends - read the instructions and you will know to remove it with Sellotape - not your nails! A very expensive exercise for me. I am now going to buy the cheapest one available. Kafe
Did you find this helpful?