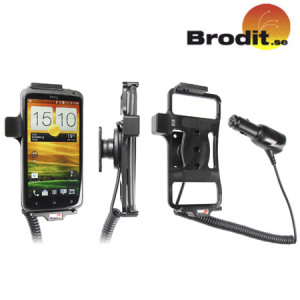 Brodit Active Holder with Tilt Swivel - HTC One X

Product Reference: 34814
"Does the job"
"As expected - Great"
This item is covered by our
Christmas Extended Returns Policy
Write a review
Alec
Portsmouth
20th May 2013

Disappointing
Plus points: Clip works quite well. Phone is mounted securly and connection lines up correctly. Is a bit of a struggle to remove phone from holder though. Could do better: Holder does not automatically launch "Car" app so it is necessary to fiddle around each time the phone is fitted, to manually find the App and launch it The self tapping screws to mount the holder onto the clip are not really suitable. They are too short to bite properly (in order that they don't poke through the holder). Clip should be pre-drilled and different screws used.
Did you find this helpful?
---
Dave Atkins
Devon
19th July 2012

HTC One X
Disappointing
Disappointing product from Brodit. This is the second phone holder I have had from them that did not fit the phone correctly (last one was for a BlackBerry) This one, the slot for the phone is perfect, but the mini USB charging plug does not line up properly with the socket in the phone. It is a fiddle to get the phone into the holder properly, and I am wonering what damage I am doing to the socket in the phone. A premium price product that does not live up to the price tag. I will not be buying any more Brodit products, last 2 holders were very poor. cannot fault Mobilefun.co.uk service though, hence 2 stars.
2 of 2 found this helpful.
Did you find this helpful?