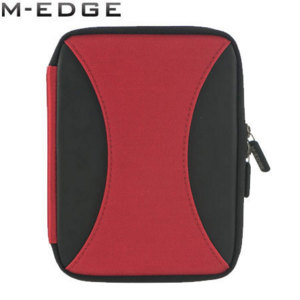 M-Edge Latitude Jacket for Kindle / Paperwhite / Touch - Red

Product Reference: 32365
"Brilliant!"
"M-Edge Latitude Jacket for Kindle"
This item is covered by our
Christmas Extended Returns Policy
Write a review
Barbara
Arkansas
23rd September 2014

Good choice
Case just what I wanted and as described. Arrived without delay.
Did you find this helpful?
---
V Feltham
Surrey
19th January 2014

Brilliant!
I was originally considering buying the 'proper' Kindle Paperwhite case but then read some iffy reviews. I decided to try this one instead and it's near perfect. It's lightweight but tough and appears to be well made as well as looking good, and the straps hold my Kindle in well. It has also been designed to provide a protective ridge around the inside edge of the case which should help protect my device's edges. The only negatives points I would raise are that it's a little awkward to get to the on/off button and I would advise taking Kindle out of its case to charge it.
Did you find this helpful?
---
Jenny
Lancashire
9th January 2014

Paperwhite kindle
M-Edge Latitude Jacket for Kindle
I bought this item for protection. It is a perfect fit, excellent quality and is great for what I needed. I paid slightly more than I wanted too but understood why when I received this item.
Did you find this helpful?
---
Anonymous
London
12th January 2012

Beware, product only for Kindle 3 (keyboard) or Ki
Exactly as the title says - the case, though exactly what I wanted, is the wrong size for a kindle 4 (or kobo). Shame it's too big for my e-reader, as it appears, on inspection, light, durable and sturdy.
1 of 2 found this helpful.
Did you find this helpful?