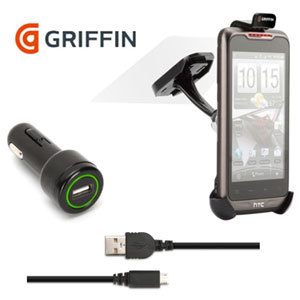 Griffin Car Pack

Product Reference: 32193
"Griffin Car Pack."
"Great quality."
This item is covered by our
Christmas Extended Returns Policy
Write a review
Ze Bear
Unknown
12th December 2013

Non as yet, it is an Xmas Present for a Samsung Galaxy Nexus S
Galaxy Nexus S compatible Car Kit
This item has yet to be used as it is a christmas present, however after scouring the Internet for a holder that also charges the device, this is perfect, the outer packaging it of a very high quality as is the product within.
Did you find this helpful?
---
Krys Young
stourbridge
25th April 2012

Galaxy SII
Griffin Car Pack.
This Little pocket package is amazing easy to use and install, also it says you can remove the phone holder with the window pad on it ,wash it and relocate ! on most u do it once and it doesn't stick Ive moved this several times and still holds firm . The holder swivel's 360 degrees easily but firm enough not to move when driving . in all a bargin pack.
Did you find this helpful?
---
Paul
Woking
19th March 2012

iPhone 4S
Does what it says on the pack
I wanted to be able to use my phone and the TomTom app easily, while charging the phone. The kit does the job perfectly and hasn't come unstuck ...... yet!
Did you find this helpful?
---
Dave
Lancashire
17th November 2011

Great quality.
Bough his Griffin Car pack because I was fed up wih the flimsy £1.99 holders off E Bay. Sraight from the off the Griffin is quality. It's lighweight but not cheap and feels fairly robust. Easy to install my only grip is that he pad to fix o he dash board isn't very adhesive and only just works on shiney plastic dash boards. Other than that is is a smart bit of kit worth that bit extra.
2 of 2 found this helpful.
Did you find this helpful?