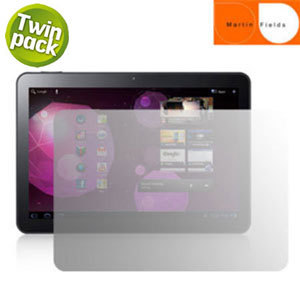 Martin Fields Screen Protector Twin Pack - Galaxy Tab 10.1
Product Reference: 31795
"Martin Fields Screen Protector Twin Pack - Galaxy "
This item is covered by our
Christmas Extended Returns Policy
Write a review
Richard Taylor
Oxfordshire
8th January 2012

Martin Fields Screen Protector Twin Pack - Galaxy
As usual very prompt service from MobileFun. Fitting this screen was an interesting challenge and it was fortunate that it was a twin pack. I must have tried for almost twenty minutes to get the screen to attach but found it impossible to get rid of air bubbles. No sooner did they go from one area than they appeared somewhere else. Eventually - out of desperation - I decided to try the second screen cover. This time round I had no difficulties at all and within a matter of seconds it was fitted and has stayed in place since. The cover has made very little difference to the tactile feel of the screen and I have no difficulties using it. It certainly picks up a lot of finger marks but a quick rub with a cloth removes them and to be honest it is only when the screen is blank that I notice them. The brightness of the screen hasn't been altered at all although in the wrong light there is a slight increase in reflections but nothing too noticeable. If you want to protect your screen from scratches then I consider this to be a worthwhile investment
1 of 1 found this helpful.
Did you find this helpful?