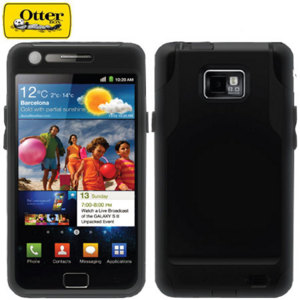 Otterbox for Samsung Galaxy S2 Commuter Series

Product Reference: 29717
"Very snug fit"
"An Ideal Birthday Present"
This item is covered by our
Christmas Extended Returns Policy
Write a review
Anonymous
Unknown
24th August 2013

Thank you
I bought an otter box, it was more money than it would have been to buy in a store but I like shopping online and this is a great place to do it. I LOVE MY NEW CASE!!
Did you find this helpful?
---
David
Belfast
17th November 2011

Otterbox for Galaxy S2
Good product, silicone covers all the corners and edges, hard panel on the back provides support and protects the back. Reccomended!
3 of 3 found this helpful.
Did you find this helpful?
---
craig
Unknown
2nd November 2011

its good but could be better
Iv had cases for previous phones made by this manufacturor and have been very inpressed but although the case is good its not up to standard compared to other cases they produce the flaps that cover the headphone socket and where the charger plugs in are loose and dont stay shut. i also think there could have been a cover to protect the camera lense better but on the upside it feels a sturdy case and it does look good
1 of 2 found this helpful.
Did you find this helpful?
---
Jono
Hants
12th September 2011

Nice case, tricky screen protector
Like the design of the case very much with the rubber "inner" and the hard outer shell. I wouldn't call it "ultra" heavy duty but it certainly looks more than enough to withstand everyday bumps and knocks and (hopefully!) the occasional drop. Gripes? Only that the rubbery case picks up fluff and dust quite easily but that's to be expected. The screen protector (like most) was quite fiddly to fit and despite my best efforts ended up with a couple of specks of dust underneath and thus small air bubbles - though I can live with that for now at least. It does at least cover the entire front of the phone which is nice, and retains a nice responsive touch to the screen. Four stars as I thought the screen protector instructions could have been better but the case itself is very nice indeed.
5 of 7 found this helpful.
Did you find this helpful?
---
Anonymous
Unknown
25th August 2011

Otterbox for Samsung Galaxy S2 Commuter Series
Easy to fit and tough. The Otterbox offers an attractive and low profile case that fits well to the Galaxy S2. Having the ABS hard case on the outside of the silicone rubber shock absorber also seems to make more sense than other designs I have considered (afterall, you want the soft stuff next to the thing you are trying to protect, not protecting the spikey object your dropping it on to). None of the functions of the phone appear to be impeeded by this case and it actually makes the phone more comfortable and secure to hold. Possibly the only negative point is that the rubber at the corners can drag on clothing making it slightly more difficult to remove from or put in your pocket (just nit-picking really).
7 of 7 found this helpful.
Did you find this helpful?
---
KP
Waterford, Ireland
18th August 2011

Safety Assured
I bought this for my wife because she's always dropping/dinging/scraping her new SGS2 of everything in sight. While the case does add a little bulk to the phone it has the reassuring feel of quality and protection in your hand. She's very happy with the purchase
9 of 9 found this helpful.
Did you find this helpful?