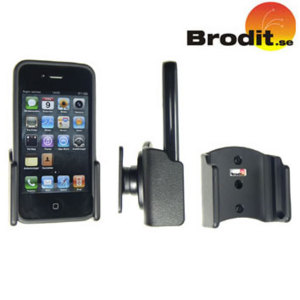 Brodit Passive Holder With Tilt Swivel - iPhone 4S / 4 With Bumper

Product Reference: 25584
"Perfect fit for iPhone with bumper"
"How did I ever do without it!"
This item is covered by our
Christmas Extended Returns Policy
Write a review
Anonymous
Unknown
14th August 2013

iPhone 4
Perfect fit for iPhone with bumper
Bought this holder which I screwed straight into unused buttons on the dash; no need to purchase anything else! I was worried it wouldn't fit the iPhone with standard apple bumper... It's a snug fit but works really well. Great product!
Did you find this helpful?
---
Anonymous
Unknown
25th July 2013

iphone 4S
How did I ever do without it!
I'm a London cabbie and have just used this holder for two days in my black cab. Very compact, well made and impressed greatly. Now wonder how I ever managed without it- especially now that bookings can be received via taxi apps Spent many hours searching the nett before I purchased. My advice is "Don't bother looking any further, buy this one now". I'm just about to order another two for family vehicles
Did you find this helpful?
---
Vin
Unknown
1st September 2011

Brodit in car mobile phone mounts
I have been buying Brodit holders for years and I wouldn't buy anything else. I recently bought the iPhone 4 holder for use with the genuine bumper and I'm so impressed 5 stars to the people who design Brodit products.
Did you find this helpful?
---
Stuart
N. Ireland
27th June 2011

Excellent Service and Product
Excellent product just what I needed, holds phone securely and of good quality. Service form mobile fun couldn't be faulted with good communication via email and very quick delivery.
Did you find this helpful?
---
Anonymous
Glasgow
3rd January 2011

Fits perfectly
This is my 2nd Brodit holder, as I had the same model for my iPhone 3GS. Fits perfectly, phone is secure whilst driving and allows easy access to dock connector and headphone jack.
Did you find this helpful?
---
Shamus
Southampton
8th November 2010

Does the job well
One of the more expensive solutions but definitely the most well designed. This product holds the iPhone (in a bumper) very well and sturdy but does have some flaws. The biggest gripe I have is that Brodit opted not to line this particular holder with cloth like most of their other holders. This makes the plastic of the holder rub against the plastic bumper with a lot of friction, making it difficult to remove the phone quickly or with one hand. Another "flaw" is that the swivel isn't situated in the middle of the holder/phone so the phone takes up more space left and right when in landscape mode. But besides those gripes, it's a very tight and secure holder that doesnt move around or loosen grip when driving so I have to say that this is a great holder for people who like to keep their phone in their bumper... If you can afford the entire solution (this + required mounting bracket)!
0 of 1 found this helpful.
Did you find this helpful?