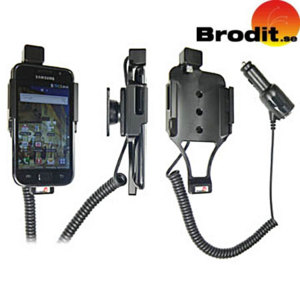 Brodit Active Holder with Tilt Swivel - Samsung Galaxy S i9000

Product Reference: 25497
"Top quality product"
"Brodit Active Holder"
This item is covered by our
Christmas Extended Returns Policy
Write a review
Martin James
Rainham, Kent
13th March 2011

Top quality product
Excellent product that was easy to fit to the car, the supplied four screws hold it securely in place providing it is placed on as flat surface as possible. Some products use adhesive pads but quite frankly they never seem to last for long, the only downside in using screws is that the surface the holder is attached to will be permanently marked with screw holes, albeit very small ones. Some people might find this off putting when selling on their vehicle. The charger plug fits tightly into the 12 volt socket (cigarette lighter) and when in use it emits a pleasant blue light in the shape of a logo. To this is attached the coiled lead which is more than long enough to be unobtrusive (I placed the unit to the left of the central radio & controls) and the tilt & swivel function enabled great viewing in the vertical or horizontal positions. This unit holds the Galaxy S very firmly indeed and charges the phone as you travel, very much needed if on a long journey & using GPS. Although it was more expensive than rival models I have owned the quality outweighs the price so you really do get what you pay for. I therefore recommend the Brodit active holder to anyone considering such a purchase.
MobileFun Reply:
Hi, thanks for the review. If you don't wish to damage your car's dashboard, please have a look at vehicle specific ProClip's. If we don't have the one for your car, we can order them in. http://www.mobilefun.co.uk/cat/ProClips.htm
0 of 3 found this helpful.
Did you find this helpful?
---
Mike
London
30th November 2010

Brodit Active Holder
Excellent kit for mounting, and charging the Galaxy s. I condider it essential as the requirement to charge the phone if you are using the GPS etc.Without it i found the battery depleted rapidly.
4 of 5 found this helpful.
Did you find this helpful?
---
mahesh
Loughborough
19th November 2010

Brodit Active Holder with Tilt Swivel - Samsung Ga
Very good bit of kit, very easy to set. Total hands free. Well recommended.
4 of 5 found this helpful.
Did you find this helpful?
---
Andrew Kelly
Bucks
19th October 2010

Samsung Galaxy S Car holder
This item was delivered very quickly and I installed it into my vehicle straight away, it really makes the phone complete with easy docking and release, it twists as well making the sat nav a wide screen view, very smart well make holder.
4 of 5 found this helpful.
Did you find this helpful?
---
Sean
Manchester
12th October 2010

Great holder/charger for GPS navigation
Fits the phone like a glove, very securely, but if you have a FlexiSkin for the phone, then you'll have to remove it every time; I found it a little annoying. The GPS drains battery life fully within 2 hours (I timed a long commute), so the charger is a must! I bought this with a suction mount which wobbles quite a bit on bumpy roads, but on the whole it's OK. Absoltely recommended if your using nav. on the phone!
2 of 3 found this helpful.
Did you find this helpful?
---
steve green
bolton
4th October 2010

Good product with 2 slight reservations.
Overall does what was needed i.e. in-car charger for my new Galaxy S. Only slight probs are that the cradle wil not accept phone in its flexible cover(tight fit) & flexible arm is a bit too flexible than I would like when 'on the move'. But these are only slight criticisms. It does what I bought it to do. Excellent,fast order/delivery.
1 of 2 found this helpful.
Did you find this helpful?
---
gary austin
Unknown
23rd September 2010

Samsung Galaxy S i9000 brodit holder
Excellant holder, holds the phone very well and also still allows access to the power and volume buttons on the side.
1 of 2 found this helpful.
Did you find this helpful?
---
Mark
London
31st August 2010

Excellent Product
Solid build, and does exactly what is supposed to. Nice swivel action ensures swift change in orientation for GPS etc. Bit of a pain to push phone upwards into holder, but this is the phone design, not the holder.
3 of 7 found this helpful.
Did you find this helpful?