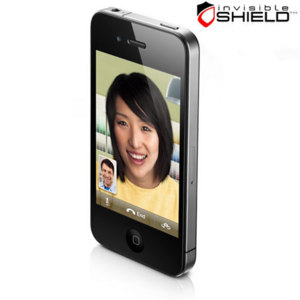 InvisibleSHIELD Full Body Protector - iPhone 4S / 4
Product Reference: 24851
"Superb product"
"Fantastic"
This item is covered by our
Christmas Extended Returns Policy
Write a review
Chris Barker
Cambridgeshire
14th November 2012

iPhone 4S
Very good protection
This film provides very good protection for my iPhone, obviating the need for another case, but it also stops the device from being quite so slippery. It is therefore more secure from being dropped through careless handling.
1 of 1 found this helpful.
Did you find this helpful?
---
John L
Biggar
13th January 2011

Not so easy
This is the third Zagg I have fitted and was the hardest. The end result is worth the patience and the effort.
1 of 1 found this helpful.
Did you find this helpful?
---
Chris
London, East of
28th December 2010

Extremely functional
Follow the instructions.....no.....FOLLOW THE INSTRUCTIONS and your iPhone will be most grateful. One problem: Silicone cases are made to such precise measurements that the thickness of the "Shield", back+front&sides tends to stand the silicone off. Small price to pay for such protection. If I have the facility to vote four and a half stars I would. However,
1 of 1 found this helpful.
Did you find this helpful?
---
Toby
Bracknell
19th November 2010

Not a problem
A great piece of kit to maximise the chances of preserving the iPhone 4. No problem fittin the product, despite what I had heard previously. Following the instructions and using a bit of savvy will insure a quality intallation. Very pleased, and I'll be purchasing again in the future for other devices. I would recommend.
1 of 1 found this helpful.
Did you find this helpful?
---
Anonymous
Gloucestershire
4th October 2010

Reassuring protection
Not quite as shiny as the totally naked phone but very reassuring to have the protection. I chose a time when I was well de-stressed, set up a comfortable work environment with good lighting and spent about half an hour per side squeezing out the bubbles. The rubber squeegee is a very effective little tool. At the moment I've got all the edge pieces in place too but I'm not sure I can live with these indefinitely as the effect is a bit messy and I'm not convinced it makes any difference to the antenna issue. So they may be coming off soon, but the front and back shields must be the least detracting solution out there. There is absolutely no reduction in the touch sensitivity.
Did you find this helpful?
---
InvisibleSHIELD Full Body Protector - iPhone 4.
Took ~ half-an-hour to fit, but went on reasonably well - after I'd figured out where the side sections fitted, as unable to located template on Invisible Shield's Website.Has been on for about 2 weeks and wearing well. Would recommend.
Did you find this helpful?
---
MarkDon
Unknown
11th August 2010

Excellent
A bit of a pain to get on at first, but after the first one is down, you get the hang of it. Make sure you are in a 100% clean area, and keep wetting your fingers with the solution. Only thing that would make it better, would be if it didn't look so orange peely.
Did you find this helpful?
---
Anonymous
The City
8th August 2010

Looks very good, yet to test damage prevention
Looks really good, very clear, you can hardly notice it. Took about 10 mins to put on, quite easy to do. If you do it a bit wrong you can just re-apply it. Changes the feel of the phone and using the screen, but not in a bad way, it's just different. Weighing up the change in feeling and being able to use the phone in the knowledge that it won't get scratched or dirty because of the shield, I would opt for the shield. i.e. I don't feel the need to treat the phone as delicately as I would if I did not have the shield, which is positive. Am yet to test what happens if you dropped the phone with the shield on, because I haven't dropped it, and I'm not fool enough to try it out just to test it for this review. Suspicion is that it would protect against hitting a hard, sharp edge, but would not help much if dropped onto the road.
Did you find this helpful?
---
Ian Smith
East Anglia
6th August 2010

iphone body protector
Good quality clear protector. Very fiddly to put on, but well worth it. Read and follow the instructions you shouldnt go wrong. But they are true to the word, after fitting the front piece we had bubbles under it we couldnt smooth out. A day or so later they had all dispersed leaving a nice flat even surface.
Did you find this helpful?
---
Chris Barker
Unknown
5th August 2010

Zagg Invisible Shield
This is an excellent way to protect the iPhone. I had one for my 3G, but now I am using this one for my 4. It's a bit pricey at this outlet (Mobilefun.co.uk), and it could do with a bit more coverage of the side panels (the metal bits), but I recommend it if you want to use your iPhone 4 without a normal case
Did you find this helpful?
---
Anonymous
Unknown
4th August 2010

Good product - but don't like the"feel&quo
Firstly, I think "full body protector" is a little bit of an over statement. The side protectors look pointless and fiddly - just can't see how they would protect the phone if you dropped it. The projective film is a perfect fit. Not difficult to apply - you've just got to take your time. I just can't make my mind up about the "feel" of the film. It does have a sticky feel to it, but no residue. I think it's very noticeable when comparing it to the lovely glossy smoothness of the iPhone4. I think it affects the responsiveness of the touch screen, especially when pinch-zooming. Not too bad when scrolling. A plus side though is I think it improves accuracy of using touch-screen keyboard. But a product like this is a must, the iPhone 4 is just too slippy without it and too expensive to replace if you scratched it.
1 of 1 found this helpful.
Did you find this helpful?
---
Philippe
Brighton
2nd August 2010

InvisibleSHIELD does what it says
Unintrusive secure and robust.
0 of 1 found this helpful.
Did you find this helpful?
---
Paul Varnham
leicester
1st August 2010

time will tell
A bit fiddly to fit but got it on my phone in the end. I think it will offer good protection. To make the phone easy to grip the film is sticky so its like having a half eaten toffee in your pocket. Every bit of fluff and dirt in a mile radius stick to your phone and make it look very scruffy.
Did you find this helpful?
---
Darren.R
London, UK
21st July 2010

Good product
I've got a fair amount of experience with InvisShield products, as I dislike cases and use the shields on all my mobile devices. The general finish of the shield hasn't changed in a year and a half. The InvisShield is still amongst the best shields around, however they do have a very pronounced 'orange peel' texture to them. A lot more than the competitors. This effect is very noticeable if the InvisShield is used on the rear of the iPhone 4, despite protection being high.
Did you find this helpful?
---
Anonymous
South East
13th July 2010

Invisible Shield full body protector
Received from Mobilefun the next day after ordering. This is the 3rd time ordering from them and their service remains impeccable. The invisible shield is advertised as providing complete coverage of the iPhone 4, including the side antennas. The product is tricky to apply, given the many small surfaces along the edges. But if you are careful and patient, it can be done with good results. Some of the individual pieces of film for the edges don't seem to provide the complete coverage I expected. This may be by design or it may be due to rushed production to get a product out there. The larger front and back films are a perfect fit. The film offers a decent degree of protection to the iPhone, enough that I can confidently carry it around without a case. Overall, I am happy with it and recommend it. The film does seem to help (a little) with the reception problem, but it does not eliminate it.
Did you find this helpful?
---
johnains
United Kingdom
2nd July 2010

P.S.
After a couple of days the film became more secure and looks better. You do need to fit it in a clean environment to avoid the problems some have been having. Upgrade to 4 stars.
Did you find this helpful?