Sorry, but iPhone / iPod Charging Pack has been discontinued and is no longer available to order. For your convenience we've selected some alternative items that we think you may be interested in.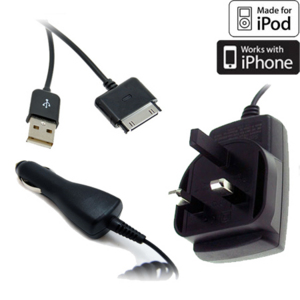 iPhone / iPod Charging Pack

Product Reference: 23155
"Great Charger Set"
"IPhone charging pack - Great Value"
This item is covered by our
Christmas Extended Returns Policy
Write a review
Anonymous
Unknown
28th September 2010

iPhone Charging Pack
What can I say, for any money this charging set is good, but for the money I paid, £ 9.99, it is excellent. I expected the in-car charger not everything else: mains charger and USB cable. Excellent product works perfectly, I would highly recommend this product for anyone with an iPod or iPhone who needs an in-car charger or spare mains charger.
Did you find this helpful?
---
Anonymous
Unknown
24th September 2010

Does the job
All items in the pack work perfectly . . . However non of them fit in the iPhone 4 when using the official apple bumper case. A bit annoying but other than that, very good :)
Did you find this helpful?
---
Brendy Nelson
Co. Down
14th September 2010

Iphone Charging pack
Value for money, I did have a slight issue with the car charger plug. I'm not sure if it is my cigarette charger but it does seem to come loose quite often, it doesn't exactly fall out but dislodges just enough to extinguish the charging led. A simple push back in does the job.
Did you find this helpful?
---
David
Bridgnorth
8th September 2010

A good value package
The Iphone 4 mains charger, car charger and USB lead all seem of good quality and are excellent value. They were delivered without any delay. I did have a fuse blow in the car charger after a week but that could be just bad luck.
Did you find this helpful?