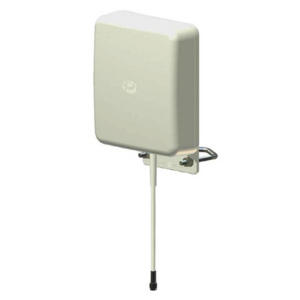 Mobile Broadband Outdoor Panel Antenna - Universal

Product Reference: 21427
"Expectations more than met"
"Poor Mobile Broadband ?"
This item is covered by our
Christmas Extended Returns Policy
Write a review
Neil
Alicante, Spain
25th May 2012

Product 21427 Mobile Broadband Outdoor Panel Antenna - Universal
Expectations more than met
The product was received in Spain just 41 hours after purchase through Internet, and has been mounted following the clear instructions. My mobile broadband worked perfectly in the urban area but although I was in direct view of the transmitter on another mountain, I am on the fringe and suffered drop out of signal. Now the signal is strong, and my Internet connection boosted to the same speed as in town, (actual 700mbps). I'm very pleased with rapid service and quality, but more than this, the product actually comes with 2 lengths of cable 3 mounts - desk (short cable), wall and mast (long cable). The latter 2 mounts I combined to give a really flexible, solid fixing, and I can therefore use the desk mount in the town house. As a little gift inside the box I found a high quality UK to Continental power socket adapter - always useful. I can highly recommend MobileFun and this product.
Did you find this helpful?
---
Anonymous
Unknown
7th November 2011

I had high hopes
I had high hopes of improving my signal situation but found the product actually reduced my signal level,I achieved better results with my long usb cable that i had used previously. Very dissapointing item but the service so far has been superb, ordered at 4:30 item recieved before 12:00 well done. I can but hope the no quibble money back guarentee is as good as it sounds. So far a positive experience from your business.
Did you find this helpful?
---
Peter
6 miles from Lincoln
20th September 2010

Poor Mobile Broadband ?
I moved from Derby to near Lincoln and my mobile broadband speed dropped to 5/6 kb download speed. My Broadband provider was no help so I bought one of these. I put it on an outside wall pointing towards my local mast which I worked out using this site's information. My light on the broadband dongle is now blue and my download speed is a constant 250 to 300 kb. If it's the same in winter I will be very happy.
12 of 13 found this helpful.
Did you find this helpful?
---
Anonymous
Tunbridge Wells
16th June 2010

Total Junk
I have tried this antenna in so many places, climbing up ladders and onto my garage roof to get a signal. I know exactly where my local mast is and it hasn't improved my signal at all. Do not buy this rubbish.
21 of 40 found this helpful.
Did you find this helpful?