Sorry, but Martin Fields Screen Protector - Nokia 5800 Xpress Music has been discontinued and is no longer available to order. For your convenience we've selected some alternative items that we think you may be interested in.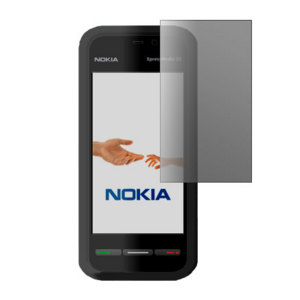 Martin Fields Screen Protector - Nokia 5800 Xpress Music
Product Reference: 18194
"Good product"
"screen protector"
This item is covered by our
Christmas Extended Returns Policy
Write a review
NigelH
Essex, UK
22nd December 2009

Grubby conditiont
Although I extracted the protective film from its cellophane envelope with tweezers so as not to touch any surfaces, I was annoyed to observe a fingerprint in the centre of the film, a feint 1.5cm scratch and a general 'dustiness' over the whole product. I was able to clean up the film with spectacle lens cleaner (but the scratch remained). The protector applied to the phone fairly easily and looks good - and I can't actually see the scratch. I was also surprised to note that there is no cut-out on the protective film to reveal the secondary camera lens. Time will tell whether this will affect photo quality (but of course the main camera lens is on the underside and thus not affected). I would probably have awarded 5 stars if the product had been pristine clean.
1 of 1 found this helpful.
Did you find this helpful?